Annual Bobcat Art Show Roars into Ninth Year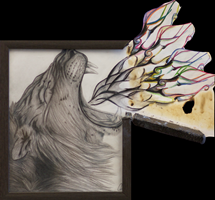 UC Merced artists will showcase their talent during the campus's annual Bobcat Art Show, which starts its month-long run Monday in the UC Merced Art Gallery and Kolligian Library.
The show, now in its ninth year, features works submitted by UC Merced students and faculty and staff members. This year, the show received 52 entries that cover a variety of media including painting, drawing, photography, digital media, sculpture and mixed media.
The exhibit is being held simultaneously in the UC Merced Art Gallery, located in Room 106 of the Social Sciences and Management Building, and on the second floor of Kolligian Library. A reception is scheduled from 4–5:30 p.m. April 24 in the UC Merced Art Gallery.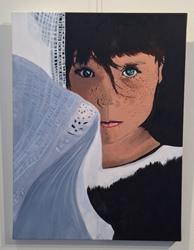 Gail Benedict, the exhibit's organizer, said the show is a great opportunity for all artists, from novices to those who are more seasoned, to show their work publicly.
"The feedback regarding the show has always been very positive," Benedict said. "I think what people like about it is that it includes everyone. I'm always pleasantly surprised by the quality of the work we receive. It's amazing to see the talent we have at our campus."
Students are a driving force behind the Bobcat Art Show as they contribute the most submissions. Student exhibitors have a chance to compete for a best student artist award in five categories.
"We leave it up to the public to decide what good art is," Benedict said.
Students play a significant role behind the scenes, too. Students enrolled in Professor ShiPu Wang's curatorial studies course are assisting in the show's installation, judging and marketing.
Faculty, Staff Participation
Show organizers note that students aren't the only ones who look forward to the annual event. Faculty and staff members are welcome to submit items, too, and many do. Professor Christopher Viney in the School of Engineering is a regular participant who this year entered a photo treatment of the campus's historic barn. Sandy Rodriguez in the Office of the Chancellor submitted a photo she took of New York's iconic Brooklyn Bridge.
Housing and Residence Life administrative assistant Jaymz Harkey has participated in the show every year since its inception. Harkey, who majored in art history and has primarily worked with glass for the past five years, likes to encourage colleagues to enter the show.
"I think the show helps our university present itself as multi-faceted," Harkey said. "We're not only engineers and scientists."
Show Connects Artists, Encourages Community
Harkey added that the show also offers a chance to connect with other artists in the community.
"The show is a chance for us to invite the greater community to our campus and to see the pride in our students," Benedict said.
For most participants, the Bobcat Art Show is the first time they have shown their art in public - an initially daunting prospect for many.
"Sharing your art is like revealing your soul," Benedict said. "But it's good experience."
The Annual Bobcat Art Show is presented by the UC Merced Art Gallery, Arts UC Merced Presents and the UC Merced Library. Arts UC Merced Presents is now in its fifth year as an arts-presenting program. Its mission emphasizes art that educates, enriches and entertains, and the Bobcat Art Show strives to uphold that belief by expanding the understanding of contemporary art and multimedia.
To view the exhibits in Annual Bobcat Show, visit the UC Merced Gallery from 11 a.m. to 3 p.m. Monday through Thursday, and in the library during operating hours.
More information regarding the UC Merced Art Gallery and Arts UC Merced Presents is available on each unit's website and both have Facebook pages at facebook.com/UCMArtGallery and facebook.com/ArtsUCMerced.