Artist Seeks to Create Social Change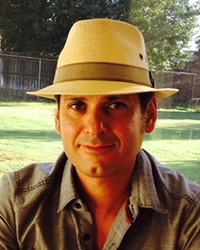 Richard Gomez wants to fill the Central Valley with art.
The Valley native has spent most of his life in California — save for a summer studying art in Paris in 2006 — and earned his bachelor's degree from UC Santa Barbara and a Master of Fine Arts degree from Academy of Art University in San Francisco. He returned to the Valley in 2010, when he was hired as an art lecturer at UC Merced.
Since then, Gomez has worked to create a number of unique opportunities for his students to bring art into communities that desperately need it. Most notably, he led a project in which UC Merced students worked with Merced-area organizations and the Yosemite Leadership Program — more than 100 volunteers in all — to paint a mural covering three walls of a building at Merced's McNamara Park.
"It is important to me to fill the Valley with as many murals as I can," Gomez said. "This area has been devoid of art for way too long, fueled by the demonization of graffiti and spray paint. How wonderful it would be for our youth to have exposure to real art and live in a community where it both exists and is respected."
While much of his focus is on murals, Gomez is up for any form of art that makes a social statement or contributes to the region's culture. Last year, he and his students created human-like figures made from trash collected at Yosemite, and worked with elementary school students on art projects for a local Día de los Muertos celebration.
Both projects were part of the Arts 171: Art for Social Change course that Gomez developed. He said he tries to make every semester of every class he teaches unique in some way, but always with an eye toward diversity and issues of race, poverty and the local identity in Merced.
"I feel a direct connection to UC Merced and to its student demographics," he said. "It is exciting for me to witness the growth of our campus. I am passionate about where we are now and where we hope to be."
Gomez took time out of another busy semester to answer a few questions for Panorama:
Please describe what your job entails.
As faculty members, we are experts in our chosen fields. I design my classes to combine rigor with fun and conceptualism with tradition. Art, unlike the other disciplines, allows for students to really be challenged in a unique way. It combines all the disciplines into one while encouraging critical thinking in a nonlinear context. This approach has been contrary to the current models of the No Child Left Behind era. I reflect back on my years at UCSB as an undergrad and wonder how my experiences as an art student could have been improved — and then I challenge myself to make these changes in my own classes and in my overall approach to teaching.
What do you find most rewarding about your job?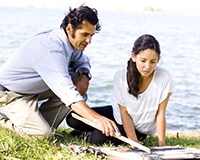 I enjoy the thrill of doing something new while encouraging my students to do the same. The university experience provides many opportunities for all of us to challenge our potential. This is especially true with myself, as I continue to take on new collaborations and projects. Also, from my perspective as an artist, the university allows for opportunities and contacts that perhaps might not be as available otherwise.
What are some of the challenges you face in your role?
Perhaps my biggest challenge is finding balance between work, life and family and art. It can be a challenge to find time to spend in the studio.
What new initiatives, projects or plans are you looking forward to in the coming year?
Life is very exciting and very busy. I currently have five major mural projects in the making, including two murals to be painted in national parks: Yosemite and the Cesar Chavez National Monument. I have also been busy in the studio and look forward to showing my new work.
This semester, I was awarded a Seed Grant for Public Humanities from the Center of the Humanities. This is a large grant that will help fund two wonderful events beginning in the fall: a mural project in Planada in collaboration with the Yosemite Leadership Program, the Planada Elementary School District and various community leaders; and the Día de los Muertos Celebration and Art Show in Merced for 2016 and 2017. We have some big surprises planned for this year's event that are sure to make a popular attraction for downtown this fall.
What do you hope people will remember about you?
I think it's best that my art answers this question.