Assessment Coordinator Dots I's and Crosses T's
In the world of higher education, accreditation is critical, yet few stop to think much about it. Angela Krueger, on the other hand, makes a career of it. As the substantive change and graduate assessment coordinator in the Office of Program Review, Assessment and Accreditation Support, she works with faculty members who want to propose new academic programs on campus.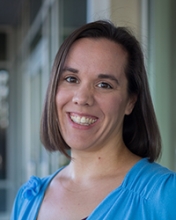 It's a job that quenches her thirst for learning by exposing her to a variety of academic disciplines.
"Reading the proposals always makes me want to go back to school and study that subject," she said. "I think I'd be in school forever if I could."
A New England native, Krueger moved to Merced about three years ago after her husband, Rex, was hired in the Merritt Writing Program. Though she still labels herself as a "horrible knitter," the UC knitting group did help her cultivate a social circle in Merced. Her daughter Stella, a toddler, attends the Early Childhood Education Center (ECEC) on campus, a perk that benefits the whole family.
"It's great having the whole family on campus together," she said.
Please describe what your job entails and what you enjoy most about it.
There are two distinct aspects to my job. First, I support faculty members who are seeking approval for new programs. Right now, our focus is on expanding our graduate programs. The approval process is intense, requiring approvals by campus, the UC system and our accreditor, WASC Senior College and University Commission (WSCUC). In this role, my job is to help with program proposals to ensure they fit the faculty's vision for the program and meet the requirements of our accreditor. I'm the person who submits the final proposal to WSCUC. If our faculty members begin to develop online undergraduate programs, I will provide support those efforts as well.
The second part of my job is devoted to supporting graduate program assessment. I help faculty members assess how well their programs and students are achieving the intended goals.
What are some of the most rewarding aspects of your job?
In some way, everything I do supports graduate student development and achievement. I get the satisfaction of helping to build a graduate culture on our campus and seeing how that culture fulfills our campus mission.
What are some of the challenges you face in your role?
I walk a fine line between being an advocate for our graduate students and graduate programs, and upholding the regulations and requirements of our accreditor. Sometimes, there are conflicts between those roles.
What new initiatives/projects/plans are you looking forward to in the coming year?
One long-term project is to make it easier for faculty members to collect assessment data on their students. I'm working to digitize program rubrics so faculty members can complete them right after students take their exams or defend their theses or dissertations, and then send them to the program folder for analysis later. I'm also working with the Graduate Division, faculty members and Institutional Research and Decision Support to revise the Graduate Student Survey to provide more actionable data. This fall, we're seeking graduate student input through focus groups.
Tell us something about you that people on campus might not know.
A lifetime ago, I was a junior national swimmer. Summer Sanders was my idol growing up — both of us being butterfliers — and I met her one year while she was a commentator at the U.S. Open Tennis Championship. It was a totally random meeting, and I just happened to recognize her in the crowd. Somehow, I managed to have the guts to go up and introduce myself. She was really cool to talk to and very appreciative of my approaching her. It's nice when idols actually meet your expectations.