Associate Director's Innovations Put CatCard on ICE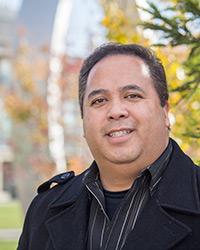 Abraham "Abe" Cereno loves a challenge, especially when it involves creative problem solving.
When he joined UC Merced two years ago as associate director for CatCard services, part of what appealed to him was the opportunity to develop technology-driven solutions that could help make life easier and more efficient for campus community members.
Enter his work with CatCard, the blue-and-gold identification cards carried by every student, faculty and staff member at UC Merced. Initially, CatCards were used as a campus ID, a "key" for building access, to manage students' meal plan balances and for checking out library materials. Since Cereno joined the campus, the card's functions have vastly expanded and include multiple capabilities and enhanced security to keep information safe.
One of Cereno's early projects was iCatCard Check-in and Event, also known as ICE — a paperless solution to track and manage attendance at campus-related events. Instead of using hard-copy sign-in sheets, the ICE system tracks attendance by using a card reader to scan each attendee's CatCard. The resource provides organizers with a wealth of demographic data that can be used in planning other events or for connecting with a specific audience.
"ICE offers users great summary reports and you don't miss anyone like you could when using paper sign-in sheets," Cereno said. "It's more accurate and it saves time and money."
The system also has practical features, such as allowing event organizers to send an automated email thanking participants for attending or a survey to collect feedback.
Cereno explained that ICE is more efficient and saves money because using sign-in sheets requires someone to manually input the information, which is time consuming and could lead to errors. Also, Cereno estimates it costs about $40 per page to input sign-in information for large events such as last October's Beats and Treats for students or the annual Staff Appreciation Picnic, which hundreds of people attend.
Cereno, who worked at Stanford University for 16 years before coming to UC Merced, discussed some of his endeavors and projects with Panorama.
Please describe your job and what it entails.
I build and integrate web and mobile applications and technologies for CatCard. My responsibilities also include leading development efforts of new smartphone technology for CatCard and Dining Services, creating marketing strategies for our unit's services and oversight of all Dining Services systems. The CatCard office's mission is to offer a user-friendly, integrated, card-based approach to deliver a wide array of campus-related services.
What are some of the most rewarding things about your job?
Having the opportunity to make a difference. At Stanford, I worked as a systems engineer and was limited in what I could do. When I came here, I saw the chance to develop applications, be innovative and creative.  
What are you looking forward to in the year ahead?
The CatCard office recently released an updated version of ICE that has a number of new user-friendly features. We're working on an off-campus merchant program that will allow campus community members to use their CatCards like debit cards at selected Catspots merchants.
We're also developing a CatCard Rewards program that awards points to patrons who show their CatCards at departmental programs or campus activities. The program encourages participation and engagement.
In April, (CatCard office colleague and Class of 2013 graduate) Arian Faurtosh and I will present at the National Association of Campus Card Users (NACCU) conference and share what we've been able to do at our campus. I'm also developing a 10-year plan for future campus needs that will identify new services and potential revenue streams.
Tell us something about you that people on campus might not know.
I turned down a job at Facebook to work at UC Merced. Every day, my goal is to make somebody laugh or smile. I believe that when you do that, you get it back.