Busy Weekend Planned for Prospective Students, Families, Alumni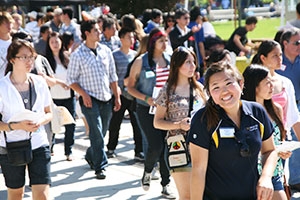 Each fall, UC Merced opens its doors to the community to show what takes place on a research university campus.
During Preview Day, scheduled for Oct. 17, high school and community college students and their families are welcome to come and to learn about UC Merced and see everything the campus has to offer.
Preview Day, open to anyone interested in learning more about UC Merced, will give attendees the chance to learn about majors and meet staff and faculty members in the university's three schools. There will also be representatives from admissions and financial aid to help prospective students and their families understand the application process.
Preview Day runs from 10 a.m. to 3 p.m. Oct. 17. Registration and campus tours begin at 9 a.m. Get more information online.
Family, Alumni Activities Planned
The campus will also be brimming with numerous Family Weekend activities Oct. 16 through 18, to entice parents and family members back to campus to spend time with their students. Details can be found online.
The weekend provides something for UC Merced alumni as well, Activities are set for Oct. 16 through 18. Homecoming: Welcome Back Weekend 2015 features a wide range of events offering Bobcats opportunities to reconnect with the campus.
The weekend kicks off with a Merced County Courthouse Museum exhibit dedicated to UC Merced's rich history and transformation over the past decade from 1 to 4 p.m. on Oct. 16. The exhibit is free and open to the public on Friday and Saturday. Alumni Weekend concludes with a Bobcat Brunch at 10:30 a.m. on Oct. 18. Find more information online.