Campus Appoints Chou Her as New Chief of Police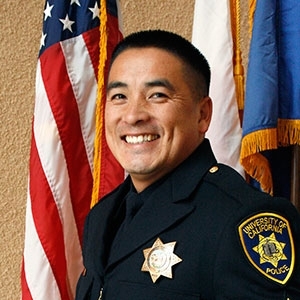 UC Merced announced Wednesday (April 12) the appointment of Chou Her as chief of police, effective immediately.
Her, the first person of Hmong descent to lead a UC public safety agency, brings nearly two decades of law enforcement experience and years of demonstrated leadership to the position. He's been a member of UC Merced campus community since the university opened in 2005 and will continue to serve students and staff and faculty members as the campus's third police chief.
"Chief Her has played a critical role in shaping the department as it and the campus have matured over the past 12 years," Vice Chancellor for Business and Administrative Services Michael Reese wrote in message to the campus. "He has helped develop a policing philosophy that is appropriate for a public research university with UC Merced's unique characteristics."
Her has served as the department's interim chief twice — when founding Chief of Police Rita Spaur retired in 2015 and after the departure of Associate Vice Chancellor for Campus and Public Safety and Chief of Police Albert Vasquez in September 2016.
"It's an honor to be selected to lead UC Merced's police department," Her said in a statement. "I look forward to continuing and growing our positive engagements with our campus community and the greater Merced community."
Her has extensive police and emergency management certification and a demonstrated commitment to community involvement. He was promoted to lieutenant in 2011 and captain in 2015.
Born in Laos, Her moved to the United States with his family when he was 3 years old and has lived in Merced for most of his life.
Before joining UC Merced in 2005, he served a deputy with the Merced County Sheriff's Department for five years and a probation officer for Stanislaus County for nearly a year. His longtime ties have assisted in building a strong connection between the campus and local communities.
Her earned an associate's degree in administration of justice from Merced College and a bachelor's degree in criminal justice and a master's in public administration from California State University, Stanislaus.
The campus will host a swearing-in ceremony for Her Tuesday, April 18, at 11:30 a.m. in the Third Floor Lantern (Room 355) of the Leo and Dottie Kolligian Library.