Campus Blood Donations Help Save Lives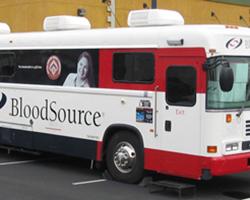 BloodSource will be back on campus from 9 a.m. to 3:30 p.m. Dec. 9 with five bloodmobiles parked on Scholars Lane near the Yablokoff-Wallace Dining Center. Each participant will receive a $5 Togo's gift card. This is the second of five blood drives planned for the academic year.
UC Merced prides itself on its commitment to community service and helping others. Students, staff members and faculty members spend countless hours working in homeless shelters and food pantries, participating in clothing and toy drives, and much more.
Now, you could say giving back is in their blood.
In September, the UC Merced community potentially saved the lives of 696 people in the San Joaquin Valley and beyond by donating blood to BloodSource. The campus surpassed its record by registering 302 blood donors and collecting 232 donations, which is a huge accomplishment, said BloodSource officials. 
"Our first UC Merced drive at the old Castle Air Force Base in Atwater, and we registered 10 donors and collected 10 donations," said BloodSource account manager Jaime Suarez. "This was pretty exciting at the time as we knew this drive would only get larger over the years."
The campus was equally pleased with the turnout for September's blood drive.
"We had many first-time donors and we had more donors than we had time to accommodate," said Associate Director for Health Services Greg Spurgeon. "We may have to extend our future drives over two days if we continue to have that much interest."