Campus Brings Urban Dance Troupe to Merced Theatre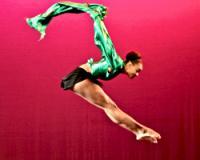 UC Merced presents the acclaimed Lula Washington Dance Theater in Merced on Sept. 29. Renowned for its mix of jazz, ballet and urban street styles, the troupe will perform at the Art Kamangar Center at the Merced Theatre.
The event starts at 7:30 p.m. at 301 W. Main St. in downtown Merced. Tickets are $15 general admission and $10 for students. They can be purchased online.
The dance performance is sponsored by Arts UC Merced Presents.