Campus Community Gives Back During the Holidays
While UC Merced's campus community is busy preparing for the end of the semester and calendar year, it's also a time when many faculty and staff members and students take on other important projects: helping others in need.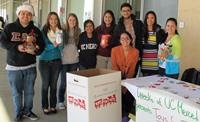 Giving back to the community through acts of public service is an integral part of UC Merced's mission and this holiday season, a number of campus departments, student organizations and individuals are doing their parts to help make the holidays special for local families and children.
This year, the Office of Student Life, Civic Leadership (OSL), Office of the Chancellor, Staff Assembly and several student groups are collaborating their giving efforts in support of All Dads Matter, a program of the Merced County Human Services Agency that provides resources, encouragement and support to fathers and families.
For its part, OSL — with help from student groups including the Latino Associated Students and the Society for Advancement of Chicanos and Native Americans in Science — is conducting an Adopt-A-Family outreach project. OSL Associate Director Vernette Doty said the goal is to assist 25 families by helping them meet some basic needs.
How it works: Three small holiday trees decorated with envelopes have been placed on campus, one in the OSL office, one in the Police Department and one on the third floor of the administrative wing of Kolligian Library. Each envelope represents a family and the number written on the envelope indicates the number of children in the family. A card inside each envelope lists the age and clothing size of each child, along with two or three needs. Donors are asked to pick an envelope and purchase any one of the items listed, wrap it and drop it off in KL 184.
Helping parents provide their children with essential items like jackets or shoes means a lot to families that are struggling to make ends meet.
"For these families who are having a hard time providing those needs, there's more stress and anguish around the holidays," Doty said. "With the Adopt-A-Family outreach, we have an opportunity to alleviate some of that."
The Adopt-A-Family campaign continues through Dec. 18. People who prefer to donate money instead of shop can do so. Monetary donations will be used to purchase grocery store gift cards for the families, Doty said. Donation checks, which can be dropped off in OSL, should be made payable to the UC Regents.
Toy Drives Benefit Children
While the Adopt-a-Family effort aims to help families with necessities, the goal of the Chancellor's Holiday Toy Drive is to collect new, unwrapped donated toys to give to children. The toy drive, in collaboration with Staff Assembly, is happening from 3 -5 p.m. Dec. 18 in the courtyard outside the Social Sciences and Management Building.
Meanwhile, eight campus fraternities and sororities are conducting a toy drive with their proceeds benefiting the Toys for Tots program. Undergraduate student Daniel Flores and others have spent the week collecting toys and donations. The goal, Flores said, is to collect $200 and enough toys to fill seven Toys for Tots boxes. 
"This is a way for us to give back to the Merced community," said Flores, of San Diego.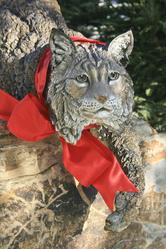 He has a special affinity toward Toys for Tots program because as a child, he once benefited from a holiday toy drive. Flores, who spent three years in foster care, remembers getting a bicycle during the holidays when he was 8 or 9 years old. That act of kindness left a lasting impression and he is eager to pass that feeling on to others.
Meanwhile, two other student groups, Alpha Phi Omega and Alpha Kappa Psi, organized a book drive to benefit the Merced Library's Children's Literacy program, said undergraduate student Kaylyn Nicolas.
"We hope to collect about 200 books," she said. "We wanted to do a book drive because as college students, we've accumulated a lot of books over the years, and we want to give back this holiday season."
People involved in these and other giving efforts demonstrate a common sentiment: wanting to support the greater Merced community.
"Everyone is excited and passionate about giving back," Doty said, "and we're supporting children and families with all of this outreach."