Campus, Community Programs Working to Prevent Obesity in Families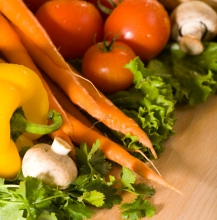 In an effort to combat the increasing rates of obesity among Latino residents, UC Merced and the Merced County Central California Regional Obesity Prevention Program will join forces.
Funded by a three-year, $90,000 grant from National Institutes of Health's Eunice Kennedy Shriver National Institute of Child Health and Human Development, the campus and nonprofit will look at efforts in other areas that have scientifically proven successful in reducing obesity, particularly in young children.
They will also develop partnerships with community groups and hold public meetings to learn what obesity-related issues are of particular concern in the community.
Forty-three percent of fifth-, seventh- and ninth-grade Merced County students were overweight or obese, according to the 2011 study A Patchwork of Progress.
"This is a powerful partnership that stands to benefit an underserved population within the San Joaquin Valley," said psychology Professor Jan Wallander, who co-authored the grant proposal. "By connecting talented researchers with community partners and members, we hope to help reduce the number of children who are plagued by this serious problem."
The research project is an example of how the UC Merced Health Sciences Research Institute matches community needs with its multidisciplinary faculty affiliates. The research team will include Wallander, public health Professor A. Susana Ramirez, sociology Professor Zulema Valdez, anthropology Professor Robin DeLugan and Blum Center interim Director Steve Roussos.
There are multiple challenges in helping people adopt healthy diets, said Claudia G. Corchado, program manager for the Central California Regional Obesity Prevention Program and lead community partner in the project. For example, some people believe chubby children are healthy children, she said, and others don't fully understand the health impacts of high-sugar beverages.
"If we don't understand what a calorie is, how can we understand and learn to control portion sizes?" Corchado said. "How can we know that a 20-ounce bottle of soda has 100 more calories than a can if we don't know how to read and understand a nutritional label and what exactly that means to our overall health?"
In addition to education, Corchado said, some families need more access to fresh fruit and vegetables. Without nearby grocery stores, they must shop at corner stores that generally stock foods higher in fat, sodium and sugar, which cost less than healthier options.
"We're living in a world of intervention, but we need to go back to a world of prevention," she said. "We can teach Latino families to avoid obesity and diabetes through healthy eating and drinking habits."
Corchado and Wallander hope the quarterly community forums are strongly attended. They'll also organize an annual conference to share information and findings.
With input from community groups and members, Wallander said, UC Merced researchers would likely have many projects they could pursue.