Campus Community Readies for Change, Discusses Shared Vision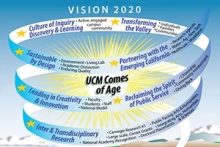 Groups of faculty and staff members took steps toward creating a unified vision of UC Merced's future during an interactive exercise held over two days last week.
UC Merced's Visioning Summit provided an opportunity for faculty and staff members to share their ideas, collaborate and collectively discuss their visions of what UC Merced will be and can achieve as it transitions from a startup institution to one that is maturing as it expands under the 2020 Project.
More than 250 staff and faculty members attended the Visioning Summits in person, while an estimated 100 connections occurred during online webcasts that allowed viewers to watch the events remotely and submit feedback in real time. The summits took place March 8 and 9, with the first day geared toward staff members and the second for faculty members.
"This process is as much about change management as it is about creating a vision," said Vice Chancellor for Business and Administrative Services Michael Reese. "It's about developing a vision to help navigate all the change the campus is undergoing."
The Visioning Summits are part of the 2020 Visioning and Change Alignment process, a campuswide initiative that will help shape and guide UC Merced's future. While the campus has made great progress during its first 10 years, it faces changes and challenges as it begins its second decade including:
growth that will accommodate 10,000 students;
significant numbers of additional faculty;
new buildings that will double the campus's physical capacity; and
increases in the number of staff members to accommodate campus growth.
"To have done this process without your input would have been so wrong," Chancellor Dorothy Leland said during one of the summit meetings. "The process in getting to this vision — to 2020, self-sufficiency, the early stages of maturity, and all of the other good things that will come — is all about Team UC Merced."
In a message distributed to faculty and staff members in February, Leland wrote that the visioning exercises will help campus community members navigate all the change underway and provide the foundation for UC Merced's future as the first American research university of the 21st century.
UC Merced partnered with Grove Consultants International, a San Francisco-based group that uses a unique and highly visual process that has helped many Silicon Valley companies move from startup to maturity.
The Grove successfully guided strategic visioning efforts with the National Science Foundation, Yosemite National Park, Nike, Levi Strauss and recently with UC Merced's School of Engineering to help each organization create a vision and develop an aligned operational strategy. The Grove is assisting to distill the many different aspirations across UC Merced into a single vision.
Asynchronous Summit Set for March 21-25
Faculty and staff members who didn't attend the in-person events or participate online can still provide feedback March 21-25 during the Asynchronous Summit, which will allow participants to make meaningful contributions to the visioning effort at a time and place that is most convenient for them.
Campus community members can access notes and presentations from the March 8 and 9 events and submit their ideas and suggestions. Participants have the option of watching the previous events in full, segments or focused excerpts.
Feedback from those participating will be read, sorted and categorized by the visioning project team and will help inform the ongoing development of the campus vision. Follow-up academic and staff summits will occur in April, when all suggestions will be reviewed and considered to further refine the campus's vision.
Additional information about UC Merced's change alignment process is available on the Business and Financial Strategic Initiatives website.