Campus Community Service Officers Get Jobs and Much More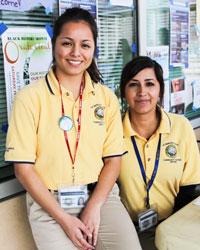 A couple years ago, Alejandra Vazquez signed up to be a community service officer on the UC Merced campus.
She thought she was just taking an interesting job, but for her and others, the experience has turned out to be so much more.
Community service officers, student employees with the Department of Public Safety, provide an invaluable service to the campus community, the police department and the Merced community.
Police officers oversee about 20 CSOs, who act as the police department's eyes and ears on campus, provide additional security at large events such as concerts or commencement, and are also available for off-campus events if needed.
"They are great kids," said UC Merced Police Sgt. Jeffrey Godfrey. "They get a lot out of the program, and are a huge help to the department."
On a daily basis, CSOs help police officers and their fellow students by making sure doors are locked and buildings are secure after hours, help out with non-emergency calls, and escort faculty and staff members and students after dark to ensure safety.
These student officers also help the police department in other ways, such as developing safety programs for students and staff and helping with police department administration and office duties.
About two weeks into her work as a CSO, Vazquez, now a senior from Fresno, decided she could do more. She signed up to be a programming CSO, and helps design safety campaigns for students and the Merced community like the recent one promoting bicycle and pedestrian awareness.
"I wanted to see what I could do to improve communications between the police department and students," she said.
She and other CSOs have participated in awareness events for the Merced community, addressing issues such as domestic violence, and for students on such issues as alcohol safety and crime prevention.
She said the police department is very supportive of the safety programs and of the CSOs.
Being a student officer is a lot of responsibility, and it's not easy to get the job. There's a rigorous hiring process that includes a thorough background check and fingerprinting. Applicants also must be interviewed by a review panel made up of police officers and student CSO supervisors.
But once hired, the CSOs become part of a special group, dressed in their uniforms of khaki pants, yellow polo shirts and black jackets. They have direct contact with police officers at all times via radio.
They become like a family with the professional officers as their mentors. Godfrey said the CSO program has an extremely low turnover rate, with most officers staying on until graduation. Many of them have an interest in law enforcement and are eager to work with police to keep their fellow students and campus safe.
The program also gives the students an opportunity to earn some extra money for school.
This program is already influencing future generations of students, too. Some students are applying for these jobs because an older sibling was a CSO during their time at UC Merced. There have also been some student officers who have applied to the Department of Public Safety after graduation and been hired on for permanent positions.
"Once I got to know the police officers and heard their stories, I got very interested in what they do," Vazquez said. "Now, I'm going to pursue a career in law enforcement after college. I love my job. I love working with the police department."