Campus Community Steps Up to Give Back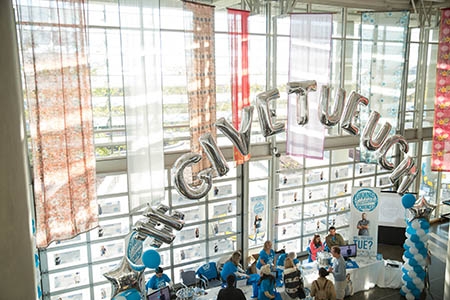 Performing acts of public service and giving back are important components of UC Merced's mission.
The end of the year is just one of many times when campus community members step up to make a difference in the lives of others.
From the canned-food, blood and toy drives to the campus's Giving Tuesday and United Way campaigns, campus community members enthusiastically participate in a host of philanthropic activities, all of which benefit the greater Merced community.
These efforts further the campus's goal of improving the quality of life for individuals, families and communities throughout the San Joaquin Valley.
Here's a roundup of recent and upcoming activities:
Giving Tuesday Exceeds Expectations
UC Merced's third annual Giving Tuesday campaign was a wild success, exceeding its fundraising goal by more than $200,000. The 24-hour drive for student support funds took place on Tuesday, Nov. 29, with one fellowship and 13 scholarship funds eligible for a 3-to-1 match from Wells Fargo and Foster Poultry Farms.
Including the matching funds, more than $680,000 has been donated to benefit those funds. In addition to the scholarship and fellowship gifts received, donors contributed more than $34,000 in additional gifts to other areas on campus, bringing the total funds raised during the one day effort to over $700,000.
More than $16,000 was donated to the newly established Will Shadish Memorial Graduate Student Fellowship, which – with the match – generated more than $67,000 to establish the fund. It will be used to recognize and reward graduate students who demonstrate excellence in their research and teaching.
The biggest performer of the night was the University Friends Circle (UFC) Scholarship, which generated more than $101,000 after matching funds are applied.
Look for additional information on the fundraising campaign in a future issue of Panorama once counts have been finalized.
Coming Up: Chancellor's Toy Drive, A Home for the Holidays
Other giving opportunities include the Chancellor's Toy Drive and A Home for the Holidays. The toy drive, hosted by the Office of the Chancellor and Staff Assembly, is happening from 3:30 to 5 p.m. Dec. 16 in the courtyard between the Social Sciences and Management Building and Student Services Building.
Faculty and staff members are encouraged to donate new, unwrapped toys. Attendees can enjoy holiday drinks and treats, and capture memories with colleagues in a photo booth during the event. This year's donations benefit Court Appointed Special Advocates (CASA) for children of Merced County.
Meanwhile, the Office of Student Life (OSL) Civic Leadership is coordinating A Home for the Holidays, an outreach program that supports All Dads Matter. OSL Associate Director Vernette Doty said the goal is to provide holiday gifts for 50 families.
Small holiday trees adorned with envelopes have been placed at 11 locations, both on and off campus. Each envelope represents a family, and the number written on the envelope indicates the number of children in the family. Each envelope contains a list with the age and clothing size of each child, along with two or three of their needs.
Donors choose an envelope, purchase one item for each child, wrap the gifts with tags and drop them off at OSL by 4 p.m. Dec. 15.
United Way Campaign Starts Jan. 10
The holiday giving efforts are a precursor to UC Merced's annual United Way campaign, which begins Jan. 10 and continues through February. Campaign organizers are working on details leading up to the launch. Employees who are interested in volunteering for this year's campaign can contact Jeff Porto.
Several departments and groups got an early start on their charitable work by hosting events and activities held over the past several weeks:
During October, interns in the Campus Advocacy, Resources and Education (CARE) Office organized "UC Merced CAREs Boxes," a community service project to support the Valley Crisis Center. In all, campus departments and individuals collaborated to donate 32 boxes filled with new clothing, self-care and personal hygiene items for survivors of domestic violence.
The campus' Student Athlete Advisory Committee (SAAC) hosted "Sock-tober," a sock drive competition between athletic teams. The teams collected 2,217 new and gently worn pairs of socks for homeless people in Merced. The UC Merced women's basketball team donated 769 pairs and won the competition. The socks were given to the Merced County Community Action Agency.
UC Merced's Staff Assembly organized two recent events. During a Fall Staff Social and Canned Food Drive, staff members donated more than 300 items for the UC Merced Food Pantry. In late October, the group participated in a Poppies Galore project. Staff members glazed ceramic poppies that will be part of a community art project at Bob Hart Square in downtown Merced. Eighty-nine people from campus, Castle, The Promenade and Mondo Building donated money to glaze poppies. Proceeds benefited the Valley Crisis Center and Room at the Inn.
Transportation, Parking and Fleet Services (TAPS) launched a canned-food drive in November to help "drive out hunger in Merced." The drive continues through Dec. 15. Non-perishable goods can be dropped off at the TAPS office, located in Facilities Services Building A, Monday through Friday. Donations support the Merced County Food Bank.