Campus Gets $1.1 Million From State to Enhance Public Safety Efforts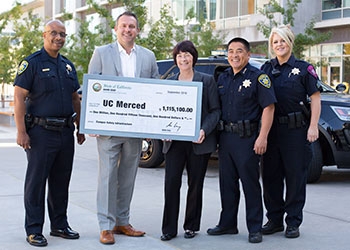 UC Merced will soon see additional funding to enhance its public safety efforts.
When Gov. Jerry Brown signed the state's budget in June, he allocated $4.5 million for Merced County law enforcement agencies to combat gang violence and other issues, and UC Merced will receive $1.1 million of the funds for public safety equipment and training.
"We're thankful for Assemblyman Adam Gray's efforts to seek this funding for our campus," Chancellor Dorothy Leland said. "This new funding will help improve our safety infrastructure and ensure our responders have the equipment they need in emergencies."
The funding will help supplement the safety resources available to UC Merced as the campus prepares to double its footprint.
"With the campus set to welcome 10,000 students in just a few short years, this funding will help to keep the entire university community safe," Gray said. "We are all excited about the growth called for in the Merced 2020 Project, and I am proud to ensure the university will have adequate public safety resources going forward."
Former Assistant Vice Chancellor for Campus and Public Safety and Chief of Police Albert Vasquez worked with his staff to develop the campus's wish list of cutting-edge technology comparable to other law enforcement agencies. The equipment is for overall campus safety — not specifically for the police department — and includes evacuation chairs that would help emergency responders remove people from buildings; automated external defibrillators with training equipment; mobile traffic messaging boards; and a mobile incident management vehicle.
The bidding process is already underway and the newly funded equipment is expected to be in place by the end of the fiscal year.