Campus Getting Greener with New Research Growing Spaces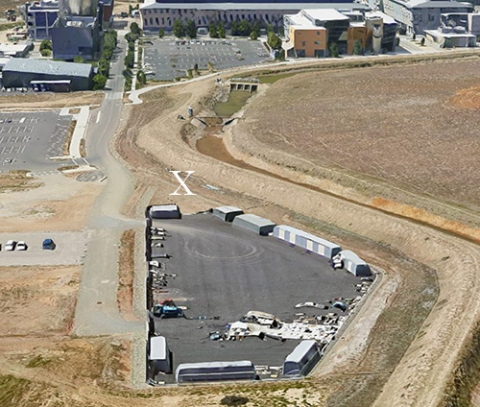 Everyone knows UC Merced is growing, but pretty soon, the campus will be growing lots of plant specimens for research, too.
The School of Natural Sciences is buying a pair of greenhouses that will be installed at the eastern end of campus near the North Bowl parking lot. The greenhouses will allow plant biology professors Emily Moran and Jason Sexton and their students to grow seedlings for study, but will also be used by many other faculty, graduate student and undergraduate researchers.
Greenhouse facilities have long been a priority for faculty and staff associated with the Life and Environmental Sciences group and the Sierra Nevada Research Institute (SNRI). Sexton has a few growth chambers in his lab but already needs more room, and plenty of other researchers need and want greenhouse space, so they are chipping in for the cost of the buildings, Moran said. Other contributing faculty members include professors Marilyn Fogel, Stephen Hart, Teamrat Ghezzehei and Carolin Frank, as well as SNRI staff members Armando Quintero and Tapan Pathak.
The professors were able to get two prefabricated greenhouses and two evaporative coolers to help control the temperature inside for about $20,000. Each greenhouse is 36 feet by 18 feet, and together they offer 1,292 square feet of usable space. School of Natural Sciences Dean Juan Meza has allocated funds for installation, which includes leveling the ground and installing electricity and other utilities. Construction is slated to start this summer.
The other option was to share greenhouses at UC Davis or other institutions, but waiting lists for growing space can be up to half a year long, Moran said, and while faculty members can arrange to travel to carry out experiments, students often cannot.
"These greenhouses will allow graduate students to finally carry out their own experiments here, which I'm very excited about," Sexton said. "Our first projects in these greenhouses will likely be to understand what vernal pool plant seeds remain dormant in soils and to breed out such plants for ecological and conservation genetics experiments."
Some other experiments researchers will conduct will be on pine seedlings. Professor Frank is studying the nitrogen-fixing endophytes in pine needles, while Moran plans to pilot test a drought-tolerance experiment using different genotypes of ponderosa pine from across California. But other professors, many affiliated with the Sierra Nevada Research Institute, will be able to study everything from the evolution and genetics of plants to root-soil interactions.
The new greenhouses will allow medium-sized plant experiments and the growing of plants larger than small herbs or seedlings.
"That's something we have not been able to do at UC Merced until now," Sexton said.
Even engineering students can look to the growing spaces to develop projects like efficient watering systems or solar power that will make the greenhouses even greener.
Students and faculty members will also be able to grow specimens for classroom and lab activities.
Moran said the two greenhouses are a great start, but someday she and others would like bigger facilities in which the environment can be more tightly controlled.
 "In these greenhouses, we'll be able to grow anything that doesn't require a super high level of temperature control," Moran said. "It will be a great area for pilot studies and student projects."
More robust facilities are expected to be built as part of the 2020 Project, but these greenhouses will provide needed research space in the years before the new buildings are completed.
"Even when we move out, these greenhouses will be perfect for other activities such as the campus's community garden, so they won't go to waste," Moran said. "There are lots of people on our campus who have interests related to plants and soil."