Campus Honors Impact of Top Donors at Annual Event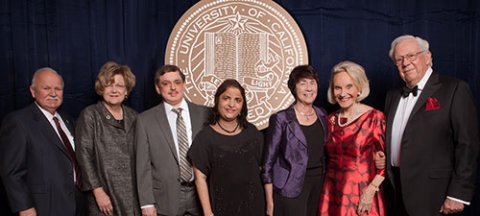 Campus supporters, administrative and academic leadership, faculty members, students and alumni gathered for UC Merced's Celebration of Philanthropic Leaders event, held March 19 to recognize the campus's annual giving and leadership donors.
"From student scholarships and fellowships to research and athletics support, every part of the UC Merced community benefits from the generosity of our esteemed supporters," Chancellor Dorothy Leland said. "Over the past decade, our donors' philanthropy has helped further the mission of this campus, and it will continue to be essential for the next phase of growth and development."
Leland thanked campus supporters in attendance and highlighted the generosity of six benefactors for their lifetime giving to UC Merced.
Longtime campus supporters Bob and Marie Gallo were honored on behalf of E. & J. Gallo Winery with the Laureate distinction, signifying the highest level of philanthropy. Their contributions to UC Merced, which include funding for the planned Ernest and Julio Gallo School of Management, scholarships and service learning projects, have already had a lasting effect on the campus.
Two couples were recognized at the Visionary level for their generous support.
UC Regent Emeritus and UC Merced Foundation Trustee Fred Ruiz and his wife, Mitzie, have supported the campus by establishing the Ruiz Family Chair in Entrepreneurship and serving as the lead donors to the UC Merced Foundation Board of Trustees Chair. In addition, they have established the Rose R. Ruiz Endowed Scholarship and Fellowship Fund and the Fred and Mitzie Ruiz Endowed Fellowship Fund to support students in their academic pursuits while at UC Merced.
Dr. Madhu Kris and Dr. Vijaya Tangella were honored for their commitment to students. They named the Kris-Tangella Lecture Hall and founded the Kris-Tangella Academic Excellence Endowed Scholarship Fund, which may be awarded to students with an interest in pursuing careers in the health-care industry.
One of the evening's highlights was a special performance of the campus's official alma mater, written by award-winning composer Jimmy Dunne. "My Merced" was performed by recording artist Samantha Schultz.
Another highlight occurred during the chancellor's closing remarks. In keeping with the evening's theme of celebrating the campus's philanthropic leaders, Dr. Hanimireddy Lakireddy, a UC Merced Foundation trustee and 2015 honoree, announced that he would provide additional support to ensure the establishment of the UC Merced Foundation Board of Trustees Chair.
The evening included a video showcasing the impact of philanthropy across the campus through the eyes of its alumni.