Campus to Host Low-Water Landscape Workshop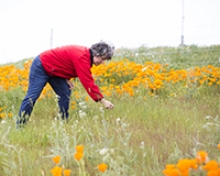 Gardeners can learn how to transform their water-thirsty lawns and gardens into water-saving landscapes featuring drought-tolerant trees, native grasses, flowers and shrubs during a daylong workshop on March 10 at UC Merced.
The event, "California's New Front Yard: Creating a Low-Water Landscape," is from 8 a.m. to 3 p.m. in the California Room. Expert instructors will present step-by-step methods of landscape design, plant selection, lawn removal, rainwater harvesting and irrigation best practices. Attendees will also tour the Merced Vernal Pools and Grassland Reserve.
The workshop is designed for home gardeners and landscaping professionals and is presented by UC Merced Sustainability, the campus's Blum Center for Developing Economies, the Department of Water Resources and the California Native Grasslands Association (CNGA).
The cost to attend is $25 for CNGA members and $30 for nonmembers. Advanced registration is required on the CNGA website.