On-Campus Housing Accommodates 2,100 Students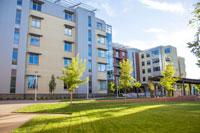 To fill a demand for more housing, the newest residence hall — Half Dome — was recently completed and will increases on-campus housing capacity by 30 percent.
Half Dome is now home to 530 undergraduate students, like political science major Jason Chulack from Thousand Oaks.
"Fifty years from now, I will be able to say I was one of the first residents of Half Dome at UC Merced, and that alone is pretty amazing," he said.
The freshman created the UC Merced Class of 2017 Facebook page in April, and that's where he met his roommates, Brock Puente and Connor Babcock. The trio decided to make the campus's newest residence hall home.
The first through third floors of the building are home to first-year students, while continuing students occupy the top two floors. The mix will be a benefit, said Director of Housing and Residence Life Leslie Santos.
The presence of returning students shows the freshmen a different aspect of things and provides a great resource. Her department worked diligently to increase the number of returning students who chose to live on campus.
"I think we sold them with the views," Santos said, referring to the spectacular vistas from almost every corner of Half Dome.
At five stories, it is the tallest residence hall on campus. Taking advantage of UC Merced's pastoral surroundings, bright lounges and study rooms are strategically located on every floor with seemingly endless windows. The location of the common areas encourage residents to engage in collaborative projects and study in groups.
"Half Dome is a significant addition to our developing student neighborhood," said Thomas Lollini, campus architect and associate vice chancellor for Design and Construction. "Its height and profile mark its unique and important location at the northwest corner of campus development, taking advantage of views out to Lake Yosemite and beyond to the thousands of acres of permanently preserved vernal-pool grasslands."
The state-of-the-art building complements the adjacent Tenaya and Cathedral residence halls that opened in 2010. Together, the three Summits buildings form an exterior courtyard that provides access to both sun and shade and a small, stepped seating area that could be used for performances, outdoor classes or other events.