Campus Launches Countywide Food and Ag Exchange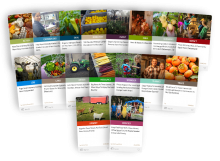 UC Merced is taking steps to fight hunger and tackle food waste on campus and across Merced County.
The campus has launched CropMobster Merced County, an online food and agricultural exchange and community engagement program to help address issues ranging from food waste and growing local food economies to food insecurity and resource scarcity.
"It's like an online version of the town square from times past," Vice Chancellor for Student Affairs Charles Nies said. "It's a place where anyone in the community can sell, share, barter and exchange to help each other, and ultimately, help the community."
The online platform, licensed and supported by CropMobster, was introduced in the San Francisco Bay Area in 2013 to bring together farmers, producers, hunger relief organizations and community members. The Sacramento region CropMobster exchange started in 2016.
The Merced County hub, managed by UC Merced staff members and students in collaboration with CropMobster, will build on existing successes.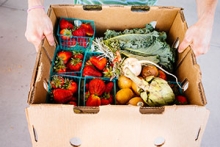 "UC Merced is the first university to take on this innovative social venture and have its staff and students moderate the exchange and work with the community," CropMobster CEO and co-founder Nick Papadoupulos said. "The campus is playing a pioneering role in this idea that will help reap results for the community and economy today, while also growing future leaders."
Although UC Merced offers a monthly food pantry distribution in a partnership with the USDA, the United Way and the Merced Food Bank, there is still more that needs to be done.
A Student Food Access and Security survey of the 10 UC campuses revealed four in 10 UC students do not have consistent sources of high-quality, nutritious food. At UC Merced, 57 percent of students reported having low to very low food security.
To help reduce those numbers and improve food security across all its campuses, the UC Office of the President, as part of the ongoing UC Global Food Initiative (GFI), has allocated $3.3 million to assist all UCs in such endeavors.
UC Merced is using part of its GFI funds to support CropMobster in an effort to get students, staff and faculty members involved and help make a difference on campus and in Merced County, where the overall food insecurity rate is 15.5 percent — compared to the state average of 13.9 percent — according to a 2016 report by the Merced County Food Bank.
Anyone — including farmers, food businesses and gardeners — can sign up for free CropMobster accounts and post alerts ranging from food sales, trades and donations to jobs, events and other community action. Once published, the alerts are broadcast via email and social media. The goal is to drive visibility through sharing by word-of-mouth, email or social media with friends and family members who may be interested in an alert and in order to produce tangible results for participants.
For information or to sign up for the CropMobster Merced County exchange, visit Merced.CropMobster.com.