Campus Launches Redesigned, Responsive Website
UC Merced on Monday launched a redesigned gateway website that features a responsive layout that looks great on phones, tablets and laptops, new and expanded information, a new color palette and wide photo rotators that showcase the campus.
"UC Merced's new website reflects the campus's dynamic and welcoming environment," Assistant Vice Chancellor for Communications Patti Waid said. "Most people's first impressions of UC Merced come from its Web presence, and that presence shines even brighter today."
University Communications undertook the redesign last fall, conducting research and soliciting input and feedback from a Web advisory group that included faculty members, students and staff members. The design was finalized in April. Writers, designers and developers spent most of the summer building the site so it could launch in the fall.
"Our new site shows how our Web presence has grown with the campus and has adapted to keep up with new technology," said Health Sciences Research Institute Executive Director Trevor Hirst, who served on the advisory committee. "Many more people are using much higher-resolution displays on computers and mobile devices, and Internet speeds are faster than ever. The new website is a graphics-heavy, responsive site that will look and function just as well on a desktop computer as on a tablet or smartphone."
UC Merced debuted its website in late 1998, according to archive.org. For the past nine years, the site has evolved — sometimes with significant changes — though it kept the same general look and feel.
The new site, powered by Drupal 7, is built for the way people use the Internet today — on phones and tablets, as well as on desktop and laptop computers. The design adapts to different screen sizes.
The gateway site will also make sharing content with other campus websites significantly easier, cutting down on the amount of time people need to spend maintaining certain parts of their sites.
"In addition to having a contemporary, yet classic design, the website is the first step toward having all of UC Merced's sites sharing information, which will help ensure every site is accurate and up-to-date," Web Communications Manager Amy Lozano-Smith said.
With a deeper understanding of building responsive websites, University Communications' web team will begin migrating other high-profile campus websites to the mobile-friendly design.
UC Merced's Website Through the Years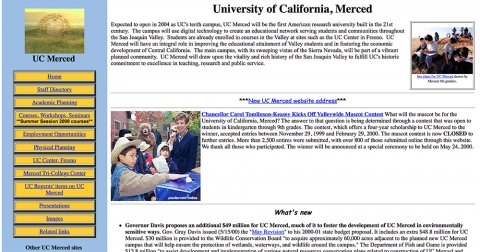 ---
---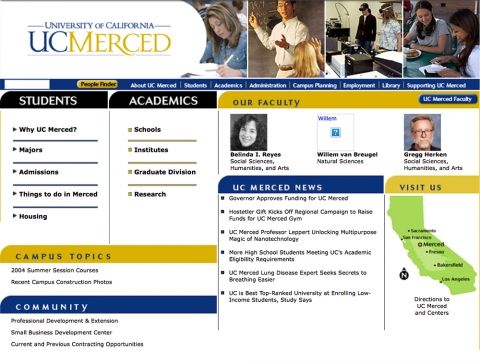 ---
---