Campus Marks Milestone with 10th Graduating Class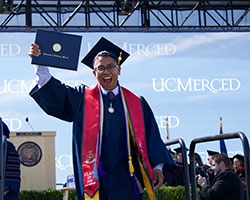 View photos and social media highlights from commencement.
When students walked across the stage at the May 16 and 17 commencement ceremonies, they joined the nearly 4,000 scholars who have earned degrees from UC Merced, while marking yet another campus milestone as the campus's 10th graduating class.
"This is a momentous occasion for our campus and for the graduates who will celebrate their well-earned accomplishments in front of family, friends, faculty and staff," Chancellor Dorothy Leland said. "We are extremely proud of the members of this graduating class, and they will always hold a special place in our history."
A lot has changed in the past decade.
The campus's first graduating class in 2006 numbered three, and this year's numbered 1,116 — the largest to date. The campus conferred 1,075 bachelor's degrees, 15 master's degrees and 26 doctoral degrees during two ceremonies. This year's graduates hailed from 43 counties in California, two other states and one other country (India). Students donning caps and gowns ranged in age from 19 to 65 years old.
The first commencement ceremony in 2006 was held in the Dr. Lakireddy Auditorium, but that space quickly became too small. The following year's ceremony was moved to the Carol Tomlinson-Keasey Quad, where 53 graduates were honored. Since 2009, commencement ceremonies have been held in the campus' South Bowl area, which can accommodate the growing number of degree-earners and their guests.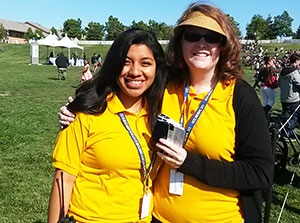 One thing that has remained consistent through the years is the volunteers who give their time to ensure this important event is a success. This year, more than 140 volunteers — including staff members, students and community members — assisted in various roles over the weekend. 
Inspirational Messages for Graduates
Richard A. Tapia, a computational mathematics professor at Rice University in Houston, spoke to more than 500 undergraduate and graduate candidates from the schools of Natural Sciences and School of Engineering during the May 16 ceremony.
Tapia told the graduates to remember that failure is a part of success.
"When you encounter obstacles and adversity, learn to look both ways," Tapia said. "The challenge is to handle adversity. Prosperity is quite easy to handle.
"True success is not the education that you have, but what you do with this education. It is not the hand that you are dealt, but how you play it."
Hatim Hanif, a biological sciences major from Manteca, addressed his classmates at Saturday's ceremony. While at UC Merced, Hanif was vice president and religious service coordinator for the Muslim Student Association.
Hanif served as a medical outreach assistant at Golden Valley Health Centers, where he assisted with a free medical clinic for the homeless, among other projects. He was also an emergency room scribe for Memorial Medical Center in Modesto. Hanif plans to use the knowledge and experience he gained at UC Merced to attend medical school and become a surgeon. Ultimately, he wants to provide services for medically underserved communities around the world.
During the May 17 ceremony, National Science Foundation acting Director Cora B. Marrett shared her words with more than 600 undergraduate and graduate candidates from the School of Social Sciences, Humanities and Arts. 
"Let there be a determination by all in the Class of 2015 to ensure illumination on your dreams, but also on the dreams of others," Marrett said. 
Student John Elias, a management and business economics major from Santa Rosa, represented the class at Sunday's ceremony. Elias was instrumental in forming a fraternity in which he held a leadership position and facilitated various community service events in the local community. He also held a leadership role in Chi Alpha, a Christian fellowship organization.
Elias plans to stay in the Central Valley after graduation and start a company in the food industry.
Two graduates sang the national anthem: Karlyn Rahmgren, a computer science and engineering major from Pinole, at the Saturday ceremony; and Danielle Oceguera, a management major from Oakland, at the Sunday ceremony.