Campus Receives Record Number of Applications for 2014-15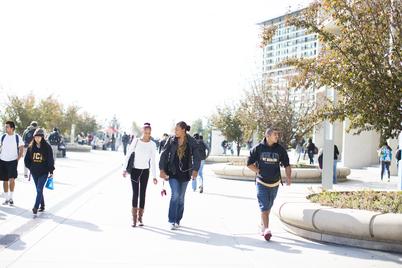 As the 10th campus in the UC system approaches the start of its 10th academic year, UC Merced, has received a record number of applications for undergraduate admission this fall.
According to admissions data released by the UC Office of the President, undergraduate applications to enroll in Fall 2014 hit 17,469, a 1.6 percent increase compared to Fall 2013 applications.
"Our growth reflects strong demand and increasing awareness of UC Merced as an excellent choice for students throughout the state who seek a UC-quality education in a small-campus environment," Chancellor Dorothy Leland said.
Overall, 15,264 freshmen applied for admission, a 2 percent increase over Fall 2013. Transfer applications remained steady with 2,205 this year compared to 2,225 last year.
"As we begin the selection process, we expect to enroll the most academically talented and diverse class in our 10-year history," Associate Vice Chancellor for Enrollment Management J. Michael Thompson said. "It is going to be an extremely competitive year as more students vie for fewer seats."
The distribution of undergraduate applications by California region has remained relatively constant with 28.9 percent from Los Angeles, 21.8 percent from the Central Valley and 25.1 percent from the San Francisco Bay Area.
Even though the campus continues to see strong growth in applications, space constraints will limit Fall 2014 enrollment increase to 165 additional students, for a total student body of about 6,360. Last fall, the campus welcomed its largest class of incoming freshmen — 1,653 students — while the coming year's freshman class is expected to be about 1,440.
As announced last year, the campus is moderating undergraduate enrollment growth to keep pace with construction of new classrooms, laboratories and housing. Construction of the Science and Engineering Building 2 is on track to open this fall. Funding for the Classroom and Office Building 2 was secured last May, and construction began in the fall. The building is scheduled to open in Spring 2016. The Student Services Building opened in the fall, adding space for lectures and classes.
"We've strategically and decisively slowed our enrollment growth until our physical space can keep up with the continued interest in the campus," Leland said.
The university's near-term enrollment goal is to reach 10,000 students by 2020.