Campus Recognized for Community Engagement
UC Merced has worked closely with community partners at the local, regional and state levels since before the campus opened in 2005, and that collaboration has contributed much to the university's success in education and innovation. This month, that commitment to community collaboration was formally recognized by the Carnegie Foundation, which granted UC Merced its prestigious Classification for Community Engagement.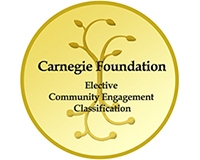 UC Merced is one of only 361 universities overall and one of just three UC campuses — including UCLA and UC Davis — to have received the designation since it was first granted in 2006. Only 28 of the 83 institutions earning the classification for the first time in 2015 are research universities, putting UC Merced at the forefront of a national trend toward research that incorporates engagement with the community.
"The importance of this elective classification is borne out by the response of so many campuses that have demonstrated their deep engagement with local, regional, national and global communities," said John Saltmarsh, director of the New England Resource Center for Higher Education, which manages and administers the community engagement classification process. "These are campuses that are improving teaching and learning, producing research that makes a difference in communities, and revitalizing their civic and academic missions."
The classification is not a monetary award or ranking, but a way of identifying institutions that are committed to collaboration with their communities for mutually beneficial exchanges of knowledge and resources. A strong emphasis is placed on faculty research that directly involves and benefits the community, service-based projects involving students and staff members, and the prioritization of community engagement by the university's administration.
"One of the very special characteristics of UC Merced is the extent to which community engagement permeates nearly everything we do," Chancellor Dorothy Leland said. "We want to support our region in ways that we can, and we believe strongly that our faculty, staff and students are enriched by working with local communities."
The exhaustive application process for the classification was completed by a team of representatives from across the campus and spearheaded by anthropology Professor Robin DeLugan, who trains students to conduct research in the region. DeLugan also serves as faculty director of the UC Merced Resource Center for Community Engaged Scholarship and is part of the university's Blum Center for Developing Economies.
Input was sought from faculty members, student clubs and organizations, and staff members to paint a full picture of UC Merced's community engagement efforts. Examples spanned the campus's entire history, from founding Chancellor Carol Tomlinson-Keasey's "Community Pledge" in 2003 to the new CatLife system that helps students track their community service projects and hours. In between was a seemingly endless list of programs that connect UC Merced to the community in mutually beneficial ways.
"We are doing a lot, we've done a lot, and yet many people don't know the full extent of our efforts," DeLugan said. "We might not have the longstanding examples of other universities, but we are doing some innovative things. There is enthusiasm for connecting with Merced and our region, and for making community engagement a central part of our university's DNA."