CatCourses to Replace UCMCROPS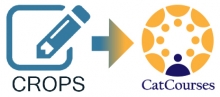 Information Technology is excited to announce that starting with the Fall 2015 semester, the new Learning Management System (LMS) being tested — code named Canvas — will replace UCMCROPS.
The new system, called CatCourses, offers many advantages over the CROPS system, including extensive online support, off-campus hosting and exclusive features such as use of the TurningPoint Cloud upgrade.
In anticipation of the changeover, IT is implementing the full version of CatCourses that will run parallel with CROPS during the Spring 2015 semester. This will allow faculty members and students to familiarize themselves with the new LMS if they have not done so already.
Users are strongly encouraged to try out the CatCourses system to help build familiarity with it and give IT a chance to gather more significant real-world usage statistics so it can better serve the campus community in the future.