CatTracks Adds New Bus Route to Reach Downtown Faster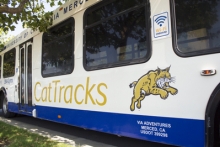 CatTracks riders who need to travel between UC Merced's main campus and downtown Merced will reach their destinations faster after a new bus route launches Jan. 20.
Transportation and Parking Services (TAPS) recently announced the addition of the G Line, which will run from 6 a.m. to 6:58 p.m. Monday through Friday, with downtown stops including the Amtrak train station and Hollywood Mainplace theaters. 
The new line was created by reconfiguring the route of one of the two buses on the existing C-2 line. Riders who take the G Line will see a significant reduction in commute time, from as long as 45 minutes to approximately 25 minutes. Because the new route repurposes an existing bus line, it requires no additional funds to operate.
'Win-Win Situation'
"It's a win-win situation," TAPS Director Karin Groth said. "The new line will provide our customers with another great transit option connecting campus and downtown on weekdays, with minimal to no financial impact."
The new route was created as a result of feedback TAPS received from faculty, staff and students who ride CatTracks. Students wanted to get downtown more quickly during the week, while faculty and staff members wanted to use CatTracks to commute to work but said the 45-minute travel time prohibitied them.
The G Line provides an option in addition to The Bus's UC Merced Route to get downtown. UC Merced's Mondo Building on Canal Street is the only off-campus building not directly serviced by CatTracks. TAPS' Jessica Johnston analyzed C-2 ridership to ensure riders wouldn't be negatively affected by the change.
Feedback Sought
TAPS is finalizing the changes and anticipates posting the G Line route map to the CatTracks website in early January. During its first two weeks, the new line is considered a "soft schedule." That means TAPS will consider making adjustments based on rider feedback.
"We want feedback from our riders," Johnston said. "If there's something we can do to improve service, we do it. And, if the changes we made don't work, we can switch it back."
Campus community members interested in providing feedback regarding CatTracks or other TAPS services are encouraged to contact TAPS or a TAPS Advisory Committee representative.