CatTracks to Bring GPS Onboard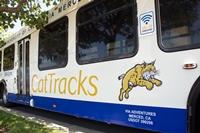 Transportation and Parking Services (TAPS) is preparing to launch a new service to help CatTracks bus riders plan their trips to and from campus.
TAPS will soon debut CatTracker, a GPS system that follows CatTracks buses in real time. CatTracks vehicles on all routes will be outfitted with the technology to make finding CatTracks buses and off-campus bus stops easier.
Read more about CatTracker and the UC Merced graduate - now a TAPS employee - who helped develop the GPS system in the next issue of Panorama.