CatTracks to Debut New Interactive Website
CatTracks and Route 22 riders looking for more detailed information about bus routes, schedules, landmarks and places of interest near stops throughout Merced will soon have a new tech-friendly resource at their fingertips: a new website with interactive maps.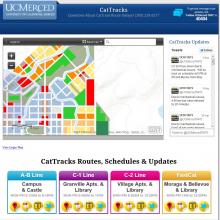 Transportation and Parking Services (TAPS) Director Karin Groth said comments from the annual TAPS survey include CatTracks riders asking for more enhanced features. In response to their feedback, a collaborative team of staff from the Office of Planning and Budget, Physical Planning, Design and Construction (PPD&C)  along with Transportation and Parking Services came together to explore effective strategies for improving riders' experience, and the interactive CatTracks website was the result.
 When riders access the new website using a computer, tablet or smartphone, they will be able to click on a specific route and view a map that displays the location of each stop along with "pop-ups" identifying nearby places of interest -- such as restaurants, coffee shops, shopping areas and landmarks. The maps will feature zooming capabilities and aerial imagery with transportation and street name labels for local highways, roads, railroads, and airports.
Through the site's main landing page riders will be able to access route-specific content such as static and interactive maps, schedules and real-time Twitter updates about delays or service interruptions. In addition to route materials, the new website will also feature links to useful information such as bus accessibility, ridership policies and fees. PPD&C Associate Planner Gene Barrera said the goal is to fully launch the site in time for the fall 2013 semester, but some portions will debut this summer.
"We'd like to post the summer session transit routes, implement the Twitter feeds and deploy the interactive mapping features during this time to ensure all the bugs have been addressed in preparation for the Fall 2013 semester," Barrera said.
In addition to providing riders with improved options for planning their trips to and from campus, the new maps can help campus community members who are new to the Merced area get better acquainted with the community and its amenities. Eventually, the goal is for the maps to include real-time updates, so riders can virtually "see" and track where a bus is along its route.
A link to the new and improved website will be available and publicized prior to the start of UC Merced's Summer Session.