Center Makes Maps Come to Life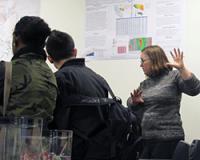 Like many children on long car trips, Erin Mutch often asked "Where are we?" But instead of telling her, Mutch's parents gave her a map to figure it out.
Mutch's knack for using maps to tell bigger stories is a skill that's taken her to the Silicon Valley to work at a startup, to the frontlines of the BP Deepwater oil spill and now has brought her to UC Merced to head up its new Spatial Analysis and Research Center (SpARC).
The center, tucked away in the Social Sciences and Management Building, is a resource for faculty members and students who want to use geographic information systems (GIS) as one of their many research tools.
"GIS may help you answer questions you never thought of," she said.
The center has about a dozen computers equipped with leading remote sensing and GIS software packages, large format plotters and scanners, a book scanner, a server for the hundreds of terabyte data sets and an LCD screen for demonstrations. Printed GIS maps line the walls, including one about the Rim fire — made by former UC Merced graduate student Paul Doherty — that burned more than 250,000 acres in the Stanislaus National forest and Yosemite National Park.
"Many people underestimate the power of GIS," Mutch said. "Mapping is a great tool to learn."
The power of GIS will be showcased during the fourth annual Geospatial Summit Conference, March 14 in the California Room. Doherty is the keynote speaker.
History Professor Ruth Mostern, who serves as the center's co-director, said every research field has a spatial component, making the center a campuswide resource.
"Faculty members and students from every school are using GIS, as are many of the administrative units on campus," Mostern said. "By developing a centralized unit like SpARC, we can acknowledge the breadth and impact of this work, and we can allow people who are using similar techniques to answer different kinds of research questions to learn from each other and to leverage their respective expertise."
Beyond tracking family vacations, Mutch's involvement with GIS began while she was an undergraduate at California State University, Humboldt, where she earned a bachelor's degree in natural resources planning with an emphasis on GIS. Her degree led her in 1996 to a Silicon Valley startup that was trying to build a robotic golf caddy.
Mutch was tasked with checking the robots' performance on golf courses and improving the maps on which they relied. At one point, one of the 200-pound robots started to drive up a tree — Mutch tried to save it and was pinned to the ground as it tumbled down.
The robots never shipped.
In 2005, GIS experts were needed to help with the emergency response to Hurricane Katrina. Mutch couldn't go because she was caring for her infant. Five years later, however, the BP Deepwater oil spill gave Mutch another opportunity to use her expertise to help people along the Gulf Coast.
GIS Corps, a volunteer organization that coordinates GIS professionals to work on projects around to world, chose her to go to the frontlines of the spill in Houma, La. She combined side-looking airborne imagery (SLAR) with GPS data to create maps of the growing oil plume for the containment effort. Mutch also analyzed the trends and ocean current to anticipate where the oil would spread. She worked 16 hour days for two weeks, making maps as fast as possible.
"It felt like the Super Bowl of GIS — using what we know to help solve an ecological disaster," she said.
For the past 15 years, Mutch has worked as a GIS consultant and adjunct instructor, until she heard the campus was looking for an expert to help with its new center. She was hired late last year to help people access all the ways GIS can assist with campus research, whether it's on public health, climate change, endangered species, fire modeling or understanding the past. 
"My job is to understand the research potential case by case," she said. "GIS is something fundamental that can be used in so many instances."