Chancellor Lauds Inaugural Innovation Award Winners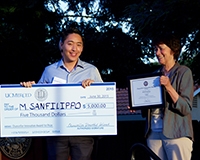 A group of UC Merced staff members recently demonstrated that innovative ideas can come from all corners of the university.
Staff members answered a call for proposals for the campus's first Chancellor's Innovation Awards, a program created to encourage and recognize innovative ideas that benefit the campus. Forty-three proposals from individuals and groups were received, and the pool was narrowed to 10 finalists. The final proposals were voted on by faculty and staff members, students, and a panel appointed by the chancellor.
The finalists were honored at a reception held at the chancellor's residence in late June, where the top three winning proposals were announced.
"We talk about innovation on the academic side of the house, but we also need to recognize and reward innovation across the entire campus," Chancellor Dorothy Leland said during the event. The submissions, she added, further demonstrated the vast amount of talent at UC Merced.
CatVax Takes Top Prize
The first place and $5,000 went to Michael Sanfilippo with Student Health Services for his CatVax proposal, which uses automated technology to validate student immunization records. How it works: Each student takes a picture of his or her immunization record and uploads the image. CatVax recognizes and logs the information. The data is sent back to the student, either validating immunization compliance or notifying the student of additional requirements.
CatVax saves time and money by eliminating the manual validation process. Sanfilippo's idea is particularly timely because in 2017, all UC campuses will require incoming students to show documentation verifying they've received all required vaccinations. His idea can be replicated across the entire UC system and can save approximately $600,000 within its first year of implementation. Sanfilippo's idea could establish a national best practice in public health.
Second place and $2,500 went to Jessica Johnston of the Administrative Coordination Team (ACT) for Where's the Bus. The idea calls for adding GPS software on CatTracks buses. Riders would be able to download an app on a mobile device and track buses in real time, view occupancy levels and access other pertinent transit information.
Third place and $1,000 was awarded to Varick Erickson in Facilities Management for his Smart Scheduling proposal, which allows lighting, heating and cooling of specific rooms to be scheduled based on the campus's Astra occupancy calendar. While Facilities currently schedules those operations by floor, Smart Scheduling would further narrow the provision by room, leading to even greater energy and financial savings. Erickson submitted two other ideas for consideration and both earned honorable mentions.
Three other finalists each earned $500 honorable mention awards and two finalists received certificates of recognition.
Plans for Implementation
The next step for the top three honorees is to examine how to turn their ideas into reality. Each awardee has been invited to participate in a work group that will explore implementation. The groups will create implementation plans that look at what's needed to make the idea happen, project costs and possible funding sources. The plans will be forwarded to the chancellor and vice chancellor for Business and Administrative Services for review.
Organizers of this year's Innovation Awards were pleased with the success of this year's competition and are looking forward to the next one.
For those who may have missed them, all finalists created presentations that explained their ideas. The presentations are posted online.