Chancellor Shares 2020 Insights at San Diego Summit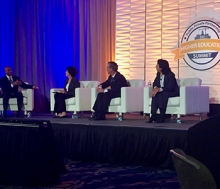 Chancellor Dorothy Leland was the keynote speaker at the Public-Private Partnership Higher Education Summit on Monday in San Diego, talking about the Merced 2020 Project and sharing her unique experience and insights.
More than 750 attendees learned about the innovative development plans at UC Merced as Leland spoke about the strategic role public-private partnerships can play in enabling higher education institutions to achieve long-term academic and organizational goals.
Vice Chancellor for Planning and Budget Daniel Feitelberg provided conference attendees with a detailed briefing on the Merced 2020 Project, including early lessons learned from this innovative model and how it might influence future projects being considered at campuses around the country.
Leland also participated in a panel discussion about the unprecedented challenges facing facilities managers in higher education during this time of limited resources. The discussion was moderated by Merced native Dale Bonner, the executive chairman of Plenary Properties Merced, the Merced 2020 developer.
While in the San Diego area, Leland visited Mt. Miguel High School in Spring Valley, meeting with school administrators and promoting the many opportunities students can find at UC Merced.
Associate Director of Admissions Ruben Lubers organized the visit so Leland could learn firsthand the greatest roadblocks to a high-quality higher education that students face, and how universities can prepare to better support first-generation students, especially as UC Merced grows to 10,000 students.
During her short visit to Southern California, Leland stopped by Tribute Pizza, owned and operated by UC Merced alumni Matt Lyons ('09) and Kurt Winbigler ('09). As members of a "startup university," Lyons and Winbigler played important roles in shaping student life at UC Merced.
Now running their own startup business, both credit UC Merced for their entrepreneurship. Leland also carried a piece of UC Merced to San Diego — Merced 2020 Project puzzles — to share the future of UC Merced's expansion.