Chancellor Starts New Year With All-Staff Meeting
Hundreds of staff members kicked off 2016 with Chancellor Dorothy Leland during an all-staff meeting in which attendees were provided with updates on key campus initiatives, heard results of a recent staff engagement survey, and learned about plans that will affect the campus as it enters its next stage of physical and academic development.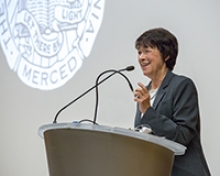 Leland's inaugural Annual Staff Meeting, hosted in partnership with UC Merced's Staff Assembly, was held Jan. 13 in the Dr. Lakireddy Auditorium and drew a standing-room-only crowd. People from across campus and satellite locations attended.
The meeting is a new way for the chancellor to communicate with staff members about their issues and concerns. Staff Convocation, held each fall at the start of the academic year, includes an update on the campus's "big-picture" issues.
Town hall meetings, a format the chancellor has used since her arrival at UC Merced in 2011, will continue, but will change to an interactive webcast in which participants can watch online and submit questions anonymously. The chancellor participated in a webcast last year with vice chancellors Michael Reese and Dan Feitelberg, and said the platform has been successful.
2020 Project Update
At the all-staff meeting, Leland discussed two major events that occurred in the fall. In November, the UC Board of Regents unanimously approved UC Merced's 2020 Project, the campus's ambitious plan to double facilities in the next five years and accommodate growth to 10,000 students soon after.
The regents' decision allows UC Merced to issue a request for proposals (RFP) to the three pre-qualified teams. After the selected team enters into a contract with the university, the first stage of construction will be scheduled.
The project will create approximately 10,800 construction jobs over the next five years.
"That's a huge economic boost for our community," Leland said.
She also noted that with multiple buildings going up at the same time, the three teams vying for the 2020 contract are required to provide plans that allow the campus to continue operations with minimal disruptions.
"We will be Construction U. for a while," Leland said. "But at the end of that, we will have space to accommodate 10,000 students and growth of the staff and faculty to support those students. We will be big enough to stand on our own two feet."
The chancellor also discussed the Nov. 4 attack, and lauded how campus community members rallied to support students and each other.
"I can't tell you how proud I am of every single one of you for being a part of that response."
She encouraged staff members who may still be affected by the incident to seek assistance, and said counseling services and resources are available to those who need them.
Staff Engagement Survey Results
Also during the meeting, Assistant Vice Chancellor for Human Resources Brian Powell provided an overview of UC Merced's results from a systemwide staff engagement survey administered to non-represented staff members in Spring 2015. The survey was a joint effort between the Council of UC Staff Assemblies (CUCSA) and UC's systemwide Human Resources. Campuses received survey results in late fall.
Powell said survey responses identified three areas of concern to staff members: change management, communication, and performance management/merit-based pay.
"I don't think any of this is surprising to anyone here, but I think that it's good that the data quantifies the anecdotal information circling around our campus," Powell said.
Overall, survey results indicate staff members believe campus leadership, supervisors and the university need to:
do a better job of explaining the rationale for change;
offer more training and professional development; and
address the issue of underperformance related to performance management.
Last year's launch of the Halogen tool for performance appraisals will help address management concerns, Powell said. Although Halogen's rollout was fast, it was also strategic, he said, explaining that he decided to implement Halogen before it is tied to merit-based pay to allow users to "test drive" the system.
Powell said HR will implement a more streamlined and user-friendly version of Halogen for the next performance appraisal cycle.
"The entire leadership team is committed to getting this right," he said.
New Category for Innovation Awards
During the meeting, the chancellor also announced the second year of the Chancellor's Innovation Awards, a program started last year. The goal is to inspire staff members to develop innovative and transformative ideas to improve the workplace while earning recognition and financial reward.
Results from the 2015 staff survey prompted the addition of a new staff engagement category. Information regarding the 2016 awards, submission process and deadlines will be shared in the coming weeks.
The chancellor ended the meeting with a reminder for staff members to keep their eyes on the prize.
"The campus is experiencing a lot of change. Moving from startup to the early stages of maturity is something literature describes as chaos," Leland said. "The prize is achieving everything that we were put here to do. The prize is the impact we will have on the lives of 10,000 students year after year. The prize is raising the levels of educational attainment across the San Joaquin Valley and enhancing this wonderful region. The prize has to continue to motivate our efforts."
Staff members who were unable to attend the meeting can view a recording of the event.