Children's Opera Series Introduces Local Kids to High Culture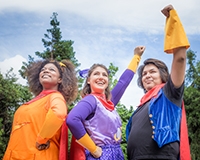 Thousands of Merced County schoolchildren will be introduced to the wonders of opera this month during the latest entry in the long-running Children's Opera series at UC Merced.
Co-produced by UC Merced lecturer and singer Jenni Samuelson and English Professor Katie Steele Brokaw, the productions allow children to experience the joy and energy of live theater and opera while also visiting a college campus — many for the first time. This is the seventh year for the project, which is sponsored by the Merced County Office of Education, Arts UC Merced Presents, the Betty Scalice Foundation and private donations.
This year's production, "W.O.O.S.H.! (Web of Opera Super Heroes)," opens May 16, and roughly 3,500 schoolchildren are expected to attend the performances. A public performance — free of charge, with no tickets required — is scheduled for 10 a.m. May 21 in the Dr. Lakireddy Auditorium.
"All ages get something different from it," said Brokaw, director of the current production. "Most of the children have never seen live theater before and wouldn't without this experience. The opera also encourages them to get excited about the arts."
The concept for the Children's Opera grew from a performance by Samuelson at UC Merced in 2008. The opera selections in the show were warmly received, and Samuelson was approached by an attendee whose grandchildren were excited by the music.
With funding from that fan and others, the Children's Opera series was born. Samuelson, who previously worked in outreach for the San Francisco Opera, played the title role in the first production, "Little Red Riding Hood," in 2009.
"The response that we got was amazing," she said. After performances, children offered up high-fives, and one even told her that "opera rocks."
Real Opera, But For Kids
Producers reprised "Little Red Riding Hood" in 2010 but skipped the next year, unable to find affordable material. Enter Brokaw, who joined the UC Merced faculty in 2011 and whose mother, Nancy Steele Brokaw, writes original children's operas performed in Illinois.
Katie Steele Brokaw had just finished performances of "Ugh the Duck" in Bloomington, Ill., and brought the show to Merced in 2012. Since then, the original children's operas have premiered in Illinois before debuting in Merced.
Brokaw said her mother uses music in the public domain from composers such as Gilbert and Sullivan, Mozart and Puccini.
"The kids are hearing real opera," she said. "It is really gorgeous music with original lyrics."
TaNayiah Bryels, a student returning to UC Merced in the fall, is one of the performers in this year's production. She also played "Quack the Duck" in the 2014 production of "The Sky Is Falling and I'm Not Even Kidding," and said children still recognize her from that feather-filled performance.
Bryels, an English major from Santa Clara, said she's done musical theater for years and also teaches theater in several after-school programs.
"It's always fun to work with kids in a different way," she said. "There's a lot of interaction with them, and I just love the fact that we're reaching out to so many kids."
New Show Promotes Teamwork
The roughly 45-minute operas are aimed at ages 3 to 12, and include life lessons about things like courage and teamwork. This year's production tells the story of composer and budding megalomaniac Dr. Cadenza, who wants to steal and destroy the world's music. Only by banding together and being brave can the group of singing superheroes use their secret powers to defeat his evil plan.
Producers provide teachers with companion curriculum kits for each opera. For example, students can discuss the opera's vocabulary, review audience etiquette or use the show as a springboard for creative projects.
Renee Richards, a kindergarten teacher at Chenoweth Elementary School, has taken her classes to every production since the program began. She said the students are excited to see the campus and love the interactive aspects of the opera — such as meeting and singing along with the characters.
"The operas are so perfect for our ages," she said. "This gives them an experience they might not otherwise have."
Richards said it's valuable for children to visit UC Merced so they can see the university — and a college education — as something that is possible for them.
"We try to make it tangible for them," she said.
For information, contact Jenni Samuelson.