Cognitive Science Award to go to Computer Vision Leader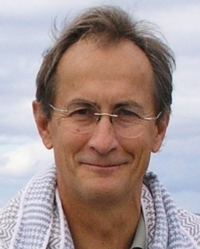 A leading expert in artificial intelligence and computer vision will deliver a public lecture about his work and accept UC Merced's 2014 Distinguished Cognitive Scientist Award.
Professor Dana H. Ballard, with the University of Texas at Austin, will deliver his talk "Why Do We Look Where We Look?" at 3:30 p.m. May 5 in the campus's California Room. The talk about his leading discoveries is intended for a general audience. It's free and open to the public.
"Ballard's career epitomizes the interdisciplinary nature of cognitive science," UC Merced Professor David Noelle said. "Trained as a computer scientist with a focus on artificial intelligence and computer vision, he has applied an information-processing perspective to our understanding of how humans see the world, using their biological visual systems in complex coordination with the movement of their eyes and their bodies in order accomplish everyday tasks like driving a car."
The Cognitive and Information Sciences faculty group selected Ballard as this year's recipient.
He developed innovative artificial intelligence methods for radiology and medical image processing. With Christopher M. Brown, he authored a pioneering textbook on computer vision. His work popularized the use of the generalized Hough transform for visual object detection. His extensive studies of the human visual system, focusing on interactions with motor control systems and task constraints, have led to fundamental changes in how perceptual processes are conceived. These insights caused him to be an early proponent of "active vision" approaches to machine vision.
More information is available online.
Email Professor David Noelle with questions.