Cognitive Scientist Earns Early Career Impact Award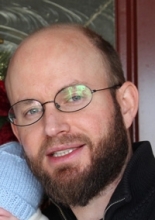 UC Merced Professor Rick Dale is a recipient of the Federation of Associations in Behavioral & Brain Sciences (FABBS) Early Career Impact Award from the Society for Computers in Psychology.
Dale, a cognitive scientist in the School of Social Sciences, Humanities and Arts, studies how our bodies reveal clues to our thoughts and social interactions that are otherwise invisible. These cues can be subconscious and subtle — a quick eye movement, a change in the pitch of a voice, the way we hold a computer mouse — but can reveal whether people will work well together on a project, how much we do or don't agree with a coworker, or how well students understand classroom material.
The FABBS Early Career Impact Awards recognize scientists who are in the early stages of their professional careers and have already shown promise as leading researchers. In selecting honorees, FABBS draws upon the expertise of its member scientific societies to identify early career candidates who have made significant contributions to their areas of science.  
In honor of his recognition, Dale's work was recently featured on the FAABS website in the article "Deciphering Clues in Human Behavior."