Commencement to Serve as Last Hurrah for DAR Vice Chancellor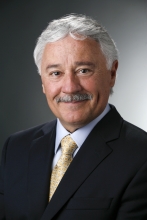 After five years as UC Merced's vice chancellor for Development and Alumni Relations (DAR), Kyle Hoffman — whose career with the University of California spanned 30-plus years and three campuses — is retiring on June 30.
Chancellor Dorothy Leland shared the news in a campus message distributed in April.
"Over the past five years, Kyle has played an important and significant role engaging our young alumni base and providing critical resources while overseeing our development activities," Leland wrote. "He has built a strong foundation at our university and leaves behind a talented team of professionals to carry on this important work for UC Merced."
When he first joined UC Merced in May 2012, Hoffman said his primary goals were to bring stability and vision to the campus's development and alumni relations efforts and vigorously pursue new resources that would allow UC Merced to advance to greater heights.
He made good on his promise.
During his time in Merced, Hoffman played a significant and proactive role in building relationships with the alumni base and the community at large. He established successful philanthropic programs and initiatives that support student success and contributed to UC Merced's critical mission of research, teaching and public service.
"I think the esprit de corps within DAR has improved dramatically since I first arrived," Hoffman said. "We put a great deal of energy into better educating the team on the role we play for this university and how gratifying that work can be if it's done collaboratively."
He also cited DAR's progress in professionalizing development and alumni relations and building programs in those areas that are the most important for the campus.
Some of Hoffman's most notable accomplishments during his time at UC Merced:
During his first year, the campus experienced a 26 percent increase in private gift and grant support compared to the previous year;
Under his direction, DAR successfully launched the Celebration of Philanthropic Leaders event that recognizes the extraordinary contributions of the campus's greatest supporters;
In 2014, UC Merced held its first Giving Tuesday campaign, through which alumni, faculty and staff members, students, parents and friends of the university donated money for student scholarships. Since its inception, the amount of money raised during the 24-hour campaign has grown exponentially. In 2016, the campaign raised $700,000 in one day and exceeded the original fundraising goal by more than $200,000;
In fiscal year 2015-16, a $10 million land donation contributed to UC Merced breaking its own fundraising record by bringing in more than $20.8 million — a 300 percent increase over the previous year.
"We developed a much more strategic approach to our efforts and in coordinating programs that really meant something to our graduates, while benefitting the university in the process," he said.
Hoffman also spoke highly of UC Merced's Foundation Board of Trustees.
"I inherited an amazingly impressive group of volunteer leaders," he said. "Over the past five years, we refined their roles and continued to recruit some excellent people to that organization."
First-Generation College Graduate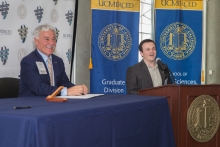 Like many of UC Merced's Bobcats, Hoffman was the first in his family to graduate from college. He earned his bachelor's and master's degrees from UC Santa Barbara, which also provided him with his first experiences in the world of development. He served as a student intern for the campus's alumni office.
His alma mater hired him after he graduated to serve as director of student relations. He held the position for five years before he moved on to UC Riverside in 1989 to serve as executive director of the alumni association.
Hoffman remained at UC Riverside for more than 20 years, where he rose in the ranks and became assistant vice chancellor for Alumni and Constituent Relations, a role he held for 14 years. Hoffman left Riverside for the opportunity to join UC Merced.
One thing he'll miss is "this dynamic and gratifying work environment and being part of an institution that is growing so dramatically and making such a difference in the lives of our students."
He'll also miss many of the people he has worked with over the years — from students and campus community members to people outside UC Merced.
"From the very beginning, people welcomed us with open arms, and we've built relationships and friendships that I know will span the rest of our lives," he said.
At the time of his appointment, Hoffman said he was drawn to UC Merced because of its goal to improve college-going rates and the regional economy of the traditionally underserved San Joaquin Valley. The campus's mission and its students were personal to him.
"I started my career as a student intern in the alumni office of UC Santa Barbara," Hoffman said. "My mom was a single parent who worked as a waitress while raising four children. I never imagined where my UC education might lead me. As a consequence, it is an incredible honor to cap my career as a vice chancellor at UC Merced."