Community Group Recognized for Charitable Work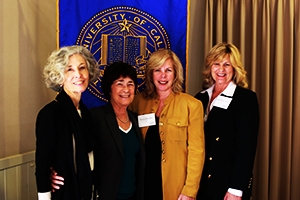 The UC Merced Foundation Board of Trustees recently honored the University Friends Circle (UFC) for its philanthropic efforts.
Each year, the board honors a philanthropic leader — or in this year's case, a group of leaders — who supports the university's mission of teaching, research and public service.
The UFC focuses on building strong relationships between the UC Merced community and the communities of the San Joaquin Valley through activities that promote social and intellectual interaction, programs of service and fundraising initiatives that support UC Merced scholarships.
In December, the UFC Endowed Scholarship was one of 12 scholarship funds supported by Giving Tuesday fundraising efforts. A 3-to-1 match offered by Wells Fargo and Foster Poultry Farms quadrupled designated gifts made during the 24-hour #GiveTueUCM campaign and pushed the UFC scholarship endowment over the $200,000 mark.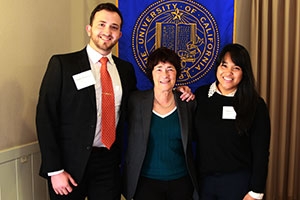 "We are delighted to recognize the leaders of the University Friends Circle for their steadfast support to UC Merced and the community," Vice Chancellor for Development and Alumni Relations Kyle Hoffman said. "Their efforts to raise scholarships for our students will make an immense impact for years to come."
The board also recognized Jessica "JaeJae" Julian (2009) and Marko Zivanovic (2014), who were the first alumni to create scholarship endowments by pledging $10,000 each over the next five years. Once their pledges are fulfilled, the matching funds will turn their gifts into $40,000 endowments.