Construction Prompts Transit Changes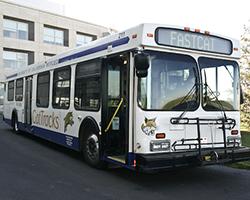 Construction to accommodate UC Merced's growing population continues and an upcoming phase of building requires changes in transit and parking near Kolligian Library.
To make way for the planned Classroom and Academic Office Building (CAOB) and related infrastructure, the transit plaza on the north side of the library where buses and shuttles drop off and pick up riders will be relocated effective Monday, May 20, to Muir Pass in front of the Student Activities and Athletic Center (SAAC). That will be the uppermost campus stop through at least the end of August. Decisions on future stop locations are still pending.
Planning for growth and finding solutions that work for transit riders, those who drive to and park at UC Merced and the campus itself was the reason for forming the Transit Advisory Subcommittee. Established in March, the team is composed of student transit riders, faculty, staff and local and county transit representatives. The committee is facilitated by Transportation and Parking Services Director Karin Groth, Phillip Woods, director of Physical and Environmental Planning, and Richard Cummings, the campus's principal planner.  
The 17-member group was charged with advising campus leadership on transit-related issues, with its primary task being to identify short- and long-term relocation options for the transit stop. The short-term options were presented to Chancellor Leland for her approval.  
The new bus stop goes will be used starting the same day as the campus's transit system CatTracks begins its summer schedule, which continues through Aug. 21. During the summer, when the campus' student population is significantly lower, CatTracks adjusts its services accordingly.
In another move related to CAOB project, Shaver Lake lot -- the gravel parking lot north of the library and adjacent to the original transit plaza -- closed May 6. A temporary parking lot near Little Lake and the recreation field will be used as overflow parking during commencement weekend. The Little Lake lot is expected to open for faculty and staff use in Fall 2013.
These most recent changes to UC Merced's transit and parking operations reflect the exciting reality of the continued growth and expansion of the 10th campus and newest research university within the University of California system.