Cool Campus Challenge Ends Dec. 10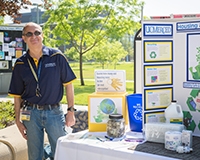 Listen up: If you're a faculty or staff member with a competitive streak, here's your chance to get out front. UC Merced has less than a week to prove just how cool a campus it is when it comes to sustainability, energy use and the environment.
The University of California kicked off its Cool Campus Challenge on Oct. 6. It's a friendly, fun competition aimed at reducing UC's carbon footprint and creating a culture of sustainability. But the challenge ends at 11:59 p.m. Dec. 10.
The systemwide competition is open to all UC faculty, staff and students. Participants earn points by pledging to do specific energy-saving activities, attending eco-friendly events, inviting others to participate in the challenge and/or highlighting heroes who work hard behind the scenes to champion sustainability.
UC Merced in Ninth Place, Trailing UC San Diego
As of this week, UC Merced was in ninth place with 1,060 participants racking up 2,168,022 points, trailing UC San Diego's 1,148 participants by less than 275,000 points. Faculty, staff and students who haven't joined the competition can still do so by going to the Cool Campus Challenge website and clicking on the "Sign Up" button. And, to those who've signed up but haven't visited or maintained their profiles, it's not too late to participate.
Campus community members can participate individually or as part of a team. UC Merced has 25 teams, and the three with the most points are: UCM School of Natural Sciences with 275,112 points; UCM Earth Systems Science with 222,646 and UC Merced Library with 145,530 points.
As of Nov. 30, the individual at UC Merced who has earned the most points is undergraduate student Gabriel Morabe, with just over 23,000 points. As of this week, he was ranked No. 20 among all systemwide challenge participants.
Several staff members are in the top 10 for individual efforts, including Jacob Croasdale, coordinator of the Yosemite Leadership Program and a member of the campus' Sustainability Committee.
Advocate for Sustainability
Croasdale rose in the rankings by taking as many of the pledges as he could and inviting co-workers and students to sign up for the challenge. Croasdale, who describes himself as an advocate for sustainability, said the challenge has been fun. He encourages people to pause and think about the long-term impacts their own actions can have on the environment.
"Sustainability takes all of us making small changes, thinking bigger and finding solutions while reducing our impact," he said.
In addition to being good stewards of the environment, Cool Campus Challenge participants are competing for bragging rights for their campuses. Also, competitors who earn the highest number of points will be eligible for a raffle to win cool, energy-efficient prizes, such as a solar-powered cell-phone charger.
The Cool Campus Challenge's goal is to help UC achieve carbon neutrality — emitting zero net greenhouse gasses from its buildings and vehicle fleet — in the next 10 years. That's something no other major university system has done. UC Merced has its own Triple Zero goal to consume zero net energy and produce zero net waste and greenhouse gas emissions by 2020, five years ahead of the systemwide goal.