CTK Quad to Host 2017 Commencement Ceremonies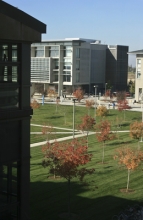 The campus's expansion under the Merced 2020 Project has provided an opportunity to review existing space use and determine creative methods to increase its functionality. A committee was formed with representation from multiple campus constituencies, and after careful analysis and deliberation, the decision was made to have the 2017 Commencement ceremonies in the Carol Tomlinson-Keasey Quad. 
As such, the quad will need to undergo landscape changes — such as the removal of some small trees to allow sufficient space for seating and staging, lighting and installation of new sod — in order to host commencement.
The changes will not significantly alter the quad's aesthetic. Commencement organizers are beginning to make arrangements to celebrate the success of the Class of 2017 on the UC Merced campus. Additional details regarding commencement will be shared when the campus resumes operations after the winter break.