Data Privacy Month Kicks Off
How well your sensitive information is safeguarded and what protocols your department has in place to protect the privacy and data of faculty, staff and students — these are some concerns to think about and take action on during Data Privacy Month.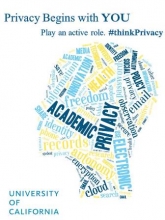 Data Privacy Month, which launched this week and continues through Feb. 28, is an annual effort to educate people about privacy and data security concerns. The goals of the campaign are to encourage people to prioritize the protection of sensitive information and control their digital footprints. 
UC Merced's Information Technology will observe the month by sharing on its website weekly messages and information related to data safety and security, including tips on how to protect your information when using smartphones or other mobile devices; exercising caution when posting to social media; and guarding against phishing attempts that can lead to compromised email accounts.
Campus community members will also see digital signage and social media used to promote data-safety themes.
IT has a section on its website devoted to security and safe computing tips. IT's Information Security Office also provides free security awareness training to departments and individuals who request it. Contact infosecurity@ucmerced.edu or email IT's Greg Fellin for more information.
Read more about the UC's privacy principles and best practices.