Delgadillo Plays a Key Role in Increasing Student Success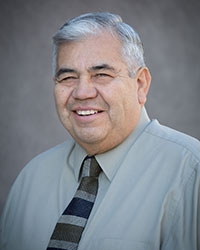 Associate Director of the Calvin E. Bright Success Center Alex Delgadillo was born on a military base in Ensenada, Mexico, where both of his parents served in the Mexican Army. At the age of 3, he and his mother immigrated to the United States.
Delgadillo was introduced to the concept of social justice and compassion toward others in junior high and high school. His eagerness to help others on a daily basis was fostered during his time as a Boy Scout.
Before stepping foot on the UC Merced campus in November 2007, Delgadillo was already well regarded for his commitment to supporting first-generation students and students from low-income families.
He spent eight years at UC Santa Cruz as assistant director of Admissions and director of Campus Orientation, managing all aspects of orientation, on-campus outreach events and the Campus Tour Program. He served as the advisor to Student Initiated Outreach Programs, Students Informing Now, supporting undocumented students and the Smith Scholars Program, supporting former foster youth.
Delgadillo's former supervisor visited him at Santa Cruz in summer 2007 and told him about a new position at UC Merced.
"He didn't have to do much convincing to get me to envision the possibilities for students at UC Merced and the role I could play in supporting them," he said.
Delgadillo jumped at the opportunity and served for nearly seven years as the associate director of Admissions for Recruitment at UC Merced, managing a variety of outreach initiatives.
He has spent the past two years as associate director of the Calvin E. Bright Success Center.
Delgadillo recently shared more about himself with Panorama.
Please describe what your job entails.
I oversee Services for Undocumented Students and Special Populations, the Fiat Lux Scholars Program and the Guardian Scholars Program. All three programs provide services and programs for special populations that are mostly composed of first-generation and low-income students. Once students are admitted and enrolled at the university, our office coordinates programs and services that focus on academic performance, professional and personal development and personal empowerment. These programs are coordinated by outstanding professionals who are committed to student success from the moment a student arrives on campus up until graduation.
I also implement agreements with community-based pre-collegiate academic programs that support college access for first-generation and low-income students.
What do you find most rewarding about your job?
Over the course of time you meet students and their families. You help a number of them envision what an education will provide them and their families and you help them see the difference they can make in the world because of their education.
Then, four or five years later, you hear their names called at graduation. You see their mothers crying tears of joy. You see their fathers' barreled chests bursting full of pride. And, you see their younger siblings inspired and envisioning their own futures. That is a moment you know will be treasured dearly.
What lesson has your work life taught you?
I recall an episode of "The West Wing," when a character made the following statement: "It is not our job to cater to the lowest common denominator, but it is our responsibility to raise it."
Within education we find that from every human interaction knowledge is born. Each of us has a responsibility to contribute to the intellectual, moral, social and spiritual growth of other human beings.
Is there anything you always wanted to do but haven't?
A few years ago I decided to compile a "bucket list." I have accomplished most of it, except surfing in Indonesia.
Tell us something interesting about you that people might not know.
After graduating from college, I spent three months backpacking through Australia, New Zealand and Tahiti, hitting every major surf spot that I could access.
As an undergraduate, I tried to walk on to play for the UCLA football team. Then an injury ended my football career. I later tried out to be the UCLA school mascot "Joe Bruin." I finished second.