Detective Earns Promotion to Sergeant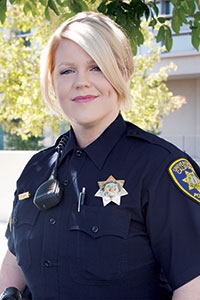 Kari Gomes, who has served in the UC Merced Police Department for more than five years, was recently promoted to sergeant. Gomes spent her first two years serving the campus as a patrol officer before she was promoted to detective in 2013. 
"We are proud to have Kari as our newest sergeant," Vice Chancellor for Campus and Public Safety and Chief of Police Albert Vasquez said. "Her accomplishment is especially exciting because she has been involved in many facets of the UC Merced community."
During her time on campus, Gomes has been a field training officer, responsible for the training and evaluating newly sworn department members.
She is the director of the Police Mentor Program, which works with students in local elementary schools, and she manages the Community Service Officer program, overseeing student employees who help promote safety and security on campus on behalf of the police department. She serves a member of the Crime Scene Team, Statewide Response Team and the Campus Advocacy, Resources and Education Advisory Board. 
Prior to coming to UC Merced, Gomes was a police officer for the Merced Police Department for four years.