Development Director Finds Supporters for Student Affairs, Athletics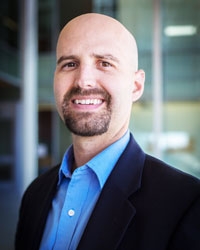 Four years ago, Jeff Porto Jr. returned to the San Joaquin Valley to be closer to the woman who would become his wife and to work at a young university brimming with potential. He started at UC Merced in the Office of Governmental and Community Relations, and now works as a development director in the Division of Development and Alumni Relations.
Before coming to campus, Porto was a political consultant in San Jose, advising local elected leaders, candidates, the police union and supporters of school bond measures, as well as advising the San Francisco 49ers on how to build regional support for the team's move to its new stadium in Santa Clara. He spent much of his time with the team's owner, Jed York, meeting with residents and fans and discussing the future stadium.
The catch? Porto is an avid Oakland Raiders fan.
Porto just returned from his honeymoon with his wife, Leslie Teixeira, a research compliance manager with the Office of Research. Panorama caught up with him before he departed.
What made you interested in development? What do you do as a development director?
Building relationships has always been an underlying theme, whether it was during my time in San Jose or working in governmental relations, my first job at UC Merced. I was drawn to the opportunity to build and strengthen new and existing relationships with our donors. I predominately support student affairs and athletics. Through collaboration with colleagues across campus, I identify and cultivate donors whose passions align with these areas. This translates into many forms of philanthropy, including scholarships, program support and sponsorships, to name a few.
What is the most rewarding part of your job?
The most rewarding part is telling people about the exciting things that are happening on our campus. I also enjoy letting donors know about how their generosity has made a tremendous impact on our students and how their lives have been transformed. One of the best things is connecting donors with our students so they can hear their stories.
What new initiatives/projects/plans are you looking forward to this year?
I'm participating in the inaugural Career Advancement Mentorship Program (CAMP) and look forward to meeting new staff members, learning from my mentor, sharpening my skills and expanding my knowledge base to help bring funding to the university.
What are some of the biggest challenges in your work, and how do you overcome them?
Parking on campus … kidding. A lot of community members still do not know a whole lot about what's going on at UC Merced. Some have never set foot on campus, even though we're in the midst of our 10th academic class and there's so much great work going on. But it's also a perfect opportunity to connect with them and bring them to campus so they can see it all firsthand.
Tell us something about yourself that most people on campus wouldn't know.
I first met my wife in junior high, and then we reconnected through Facebook 13 years later.
I climbed the Sydney Harbor Bridge in Australia in 2012.
I helped lead my college cross-country team to 10th place at the NCAA Division I National Championships, still the best finish in school history. For the past four years, I have lived vicariously through our UC Merced runners as an assistant coach for the cross country team.