Dietitian Gives Healthy Eating Advice to Students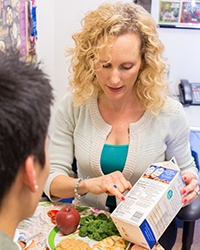 UC Merced students have a new resource on campus as they navigate the often tricky world of food and nutrition.
Jennifer Hobbs just completed her first year as the registered dietitian with
Student Health Services
. There, she sees and advises students on nutrition and wellness, creates helpful programs and works to expand healthy food options on campus.
"I love helping people eat healthier," she said.
A dietitian for about 20 years, Hobbs earned bachelor's and master's degrees in nutritional sciences and dietetics from California State University, Fresno. She has worked on child obesity issues in Merced for about 13 years and also runs a nutritional counseling business.
Hobbs said she was excited to join UC Merced after talking over the possibilities with the university for the past few years. Her clientele are UC Merced students who might need help choosing the best foods or managing conditions such as diabetes.
In some cases, they are gaining weight or are confused about what foods to select.  They might have an eating disorder or recognize they need to head off a family history of obesity or related health problems.
"I've been impressed with the students who come in ahead of time because they are concerned about a family history," Hobbs said. "They recognize that they could be prone to following in those footsteps."
One of Hobbs' key tips is to eat a healthy breakfast every day.
"I'm finding that students build their eating habits around their class schedule," she said. "It's not consistent from day to day, and they often skip breakfast."
Yet eating breakfast helps with concentration — and even weight loss, by keeping the metabolism in shape. Hobbs provides tips and more in a
monthly nutrition newsletter
available on the health center website.
Hobbs does more than talk about nutrition. Last spring, she led a grocery store tour that helped students learn how to read food labels, make smart choices and shop on a budget.
In addition, Hobbs has been working with the
Yablokoff-Wallace Dining Center
to bring more healthy choices to the menu. The dining center now offers a harvest of the month that highlights a seasonal fruit or vegetable.
Quinoa, a high-protein grain, is regularly on the menu, and students short on time can choose a healthy "grab and go" meal such as a premade salad, hummus, or cut fruits and vegetables.
At the beginning of the year, Hobbs provided tours of the dining center to show students healthy options and explain how they can tailor orders to be healthier. She also works with the campus's Food Pantry, which provides food staples for students, staff members and the community.
Hobbs also collaborates with HEROES (Health Education Representatives for Opportunities to Empower Students), a group of trained peer health educators working to create a healthier campus.
As she continues at UC Merced, Hobbs is looking to become more involved with students when they first arrive on campus. She also wants to work on other programs such as the Global Food Initiative, UC's systemwide effort that focuses on issues such as sustainability and nutrition.
"I like working with students," Hobbs said. "I find it inspiring."