Dining Services Director Talks Sourcing, Sustainability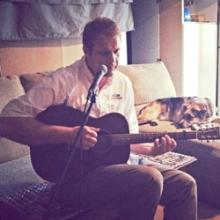 For Jason Souza, director of dining services and the CatCard, providing a quality, service-oriented dining experience is crucial to keeping the campus community happy. Souza oversees about 40 career staff members and 180 student associates. A good portion of his time is spent strategizing how dining services will expand to meet the needs of the growing campus.
When he isn't at work, Souza spends time playing with his two sons, Taylor, 4, and Caden, 2, and writing songs, singing and playing guitar.
"Music is a wonderful way to release stress and fuel the mind with creativity and positive thoughts," he said.
Here, Souza talks about his passion for serving others and helping the campus support its mission to become the greenest in the country.
How did you get into the food service industry?
I began working as a student employee in UC Santa Barbara's University Center Central Kitchen. I started as a pot washer and moved up the chain to student supervisor. Within three years, I was student manager. After graduating from college with a degree in microbiology, I decided to stay in food service management because I enjoyed it and felt I was successful at it.
What is the most rewarding part of your job?
I really enjoy customer service and putting smiles on people's faces. I also love watching student associates grow within our team and eventually leave dining services equipped with employment skills that will help them acquire jobs after they graduate.
What are some of Dining Service's current and planned projects?
Current initiatives include developing phase two of the OZZI container-recycling system initiative to identify additional areas where we can reduce food and disposable waste. We are also establishing a nutritional facts platform that will be presented to customers via Smartphone application, QR codes on station sneeze guards and on the Web.
Planned initiatives include analyzing the source of all food purchased and developing a method to accurately represent the amount of locally sourced/organic/sustainable food purchases. We plan to publish this number and develop a plan to increase it. We are also working to create a Student Manager Program where select students are given an opportunity to train for a semester. Our goal is to form a team of four student managers who know the front- and back-ends of Dining Services' locations.
How has Dining Services been involved in helping the campus become "greener?"
We are constantly looking into ways to help the campus meet its mission to be "green." We have taken on pre-consumer composting, use of green eco-containers for take-out orders and we purchase local goods whenever feasible.
How is Dining Services working to source more local products?
We are working to form a Farmers Consortium to promote UC Merced's interest in doing business with local farmers, in addition to direct communication with local farms. We also work very closely with our food service provider to identify products locally sourced inside of a 100 mile radius.
Spotlight is a new feature that we hope you will all contribute toward. It is meant to be an interactive Q&A with a UC Merced staff or faculty member. Kerry Clifford, academic specialist for the School of Natural Sciences, will be highlighted in the next edition of Panorama. Let us know if you have someone you would like us to include for a future Spotlight by contacting communications@ucmerced.edu.