Dining Services Event Raises Money for Scholarships
More than 40 UC Merced employees gathered in Elizabeth's Garden private dining room recently to enjoy tapas and sangria while supporting the UC Merced Staff Assembly Scholarship for Employees' Dependent Children.
For a $15 donation, diners feasted on an array of appetizers including tortilla espagnola (Spanish potato and onion frittata); pollo frito al ajo (fried chicken wings tossed in garlic sauce); champinones al ajillo (garlic mushrooms); albondigas (meatballs in garlic tomato sauce); fruit and cheese; two kinds of desserts; and beverages that included red and white sangria, flavored spa water and an alcohol-free drink.
All food and drinks served at the fundraiser were donated, said Dining Services Executive Chef Mitch Vanagten, who organized the event with support from the American Culinary Federation (ACF). In addition to the donated food, eight staff members gave their time to prepare and serve food and drinks, greet attendees and take pictures, Vanagten added. The fundraiser marked the first collaboration between Dining Services and the ACF, Vanagten said. All proceeds from the fundraiser will be donated to Staff Assembly's scholarship fund, which supports children of staff members who attend UC Merced.
"We wanted to start doing events with the federation to help raise funds for the campus and nonprofits," Vanagten said, while adding that the decision to raise money for scholarships that benefit staff members' dependents was an easy one to make.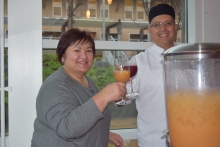 "I feel that it's important to support our staff," Vanagten said. "Maybe their kids will want to go to school here, and through these kinds of activities, our dining team can support that. This event was successful and we hope to have additional fundraisers in the future."
UC Merced Staff Assembly President Pam Taylor lauded Vanagten and the Dining Services team for their generosity.
"This was a wonderful tribute from Dining Services," Taylor said. "For them to consider giving back in a way that benefits staff members and their children is awesome. For them to think of Staff Assembly as the beneficiary of their first fund-raising event is just amazing, and we thank everyone involved from the bottom of our hearts."