Discovery, Innovation Highlight Annual Research Week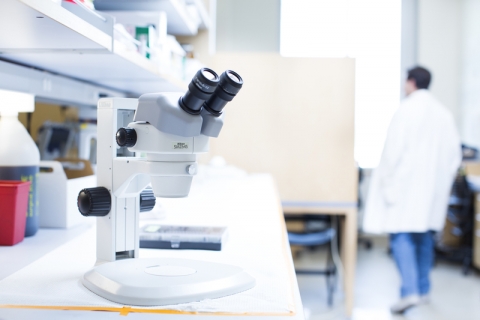 It's time for the annual celebration of one of the main missions of UC Merced, along with education and public service — research.
From March 6-10, people on and off campus can get an up-close look at how UC Merced research fosters the development of students and faculty and extends growth from within the local neighborhood to the global academic community.
Each year, UC Merced dedicates a week to highlighting the significant work being conducted here. Most events are open to the general public, though some are for staff and faculty development only. For events limited to the campus community, look for announcements in your campus email.
The public is invited to see some of the many innovative projects underway and learn about the advances our researchers are making in such fields as biotechnology, chemistry, climate change, ecology, computer hardware and software and devices, diagnostics, drug discovery, energy, engineering, environment, imaging, materials, medical, nanotechnology, optics, transportation and many more.
It will be a week filled with interesting opportunities. Here's a rundown of the schedule, but for more details, visit the Research Week Events Calendar.
Sierra Nevada Research Institute Symposium
March 6, 12:30-3 p.m., KL 232
Professor Leroy Westerling will offer opening remarks, followed by a talk entitled "Climate Change and Snow: Future Scenarios and Historical Analogs," by Project Scientist and Assistant Adjunct Professor Mohammad Safeeq; a discussion of entomology in the San Joaquin Valley by Professor Andrea Joyce; a talk entitled "Mercury Cycling in California Reservoirs" by Professor Marc Beutel; a lecture on the capacity of California's plants to weather climate change by Professor Jay Sexton; and a moderated discussion. Refreshments will be provided.
CITRIS' second annual Agricultural Technology Fair
March 8, 8:30 a.m. to 3 p.m., California Room 
The Center for Information Technology Research in the Interest of Society (CITRIS) and University Extension invite everyone to the Ag-Tech Fair, a showcase of emerging technologies backed by cutting-edge research and entrepreneurial innovation. Ron Zink, J.D., former director of Mobile Applications at John Deere, is the keynote speaker. Other events include a panel discussion about robots in agriculture; an update about agricultural drone development and education at UC Merced; a talk about the future of ag-tech research at UC Merced and the role of the UC Merced Venture Lab; a panel on big data; and more. People are asked to register online to reserve space.
Campus Working Group on Assessment's Assessment as Research Symposium
March 8, 9 a.m. to 1 p.m., KL 355
Resource Center for Community Engaged Scholarship (ReCCES) annual reception
March 8, 4:30-6 p.m., Merced Civic Center, 678 W. 18th St., Merced
Speakers will discuss how UC Merced is fostering community-engaged research, and attendees can see an installation of research posters in the Civic Center lobby from March 8-17.
Abstracts, Appetizers and Art
March 9, 2:30-4:30 p.m., KL 355
This event recognizes and showcases graduate student work. Faculty members and graduate students are welcome to attend and enjoy appetizers, mingling, abstracts and art. Sponsored by the Graduate Division's Graduate Resource Center. 
Inventing in the Research Lab vs. Startups
March 10, noon-1 p.m., Classroom & Office 2 Building, Room 140
Lunch is provided to those who RSVP to hear guest speaker David Merrill, a technology executive and hardware startup founder with a computer science and human computer interaction background, compare research and startup innovation based on his experiences at Stanford University, the MIT Media Lab and Bay Area startups.
He'll discuss how the desired outcomes of each context encourage different kinds of risk and exploration; takeaways from his research experiences; and the structure the early ideation process at Lemnos Labs, where he is an entrepreneur in residence. Merrill is an alumnus of MIT and Stanford Computer Science and Symbolic Systems; a TED speaker; a human-computer interaction expert; and a drone builder. His work has been featured by the Discovery Channel, Popular Science, Wired and the New York Times.