Dispatcher, Officer Lauded for Quick Actions
The UC Merced Police Department (UCMPD) recently honored two of its members for outstanding work in the field of campus and public safety.
Reannon Cook was recognized as UCMPD's Public Safety Dispatcher of the Year.
"Reannon consistently upholds the values of courtesy, respect and empathy while maintaining the highest standards of public safety communications," Assistant Vice Chancellor for Campus and Public Safety and Chief of Police Albert Vasquez said.
Cook has been with the campus since September 2005, and is certified as a California Peace Officers Standards and Training (POST) trainer. As such, she is a vital link between students, faculty and staff members, UC Merced police officers and the community.
Cook's position was critical during the Nov. 4 incident, when she was working as the sole dispatcher taking numerous 911 calls. Her quick and decisive actions to dispatch police officers helped swiftly end the tragic incident.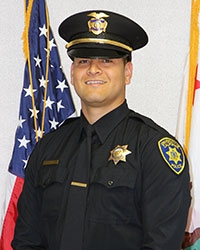 Police Officer Olaf Lopez was recognized as UCMPD's Police Officer of the Year for his contributions to the campus's safety.
On the morning of Nov. 4, Lopez was responding to a malfunctioning fire alarm in the Leo and Dottie Kolligian Library when he heard Cook's emergency radio traffic about a stabbing in the Classroom and Office Building. Lopez's quick actions brought an end to the campus threat.
Lopez was hired in September 2015 after working for the Merced County Sheriff's Office for six years.
"We look forward to many more years of outstanding service from Olaf, as he truly exemplifies the tenets of university policing," Vasquez said.
"Public Safety Dispatcher Cook and Police Officer Lopez acted quickly and averted what could have been a much more tragic incident," Vasquez said. "We honor them both."