'Diverse' Magazine Names Groundbreaking Professor an Emerging Scholar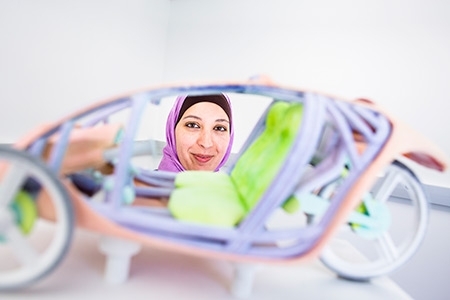 The magazine Diverse: Issues in Higher Education has named UC Merced Professor Ala Qattawi an Emerging Scholar of the Year in its first issue of 2017.
Qattawi, with the School of Engineering, is the first woman in the United States to earn a Ph.D. in automotive engineering, and the only automotive engineering professor at UC Merced.
"The Emerging Scholars of the Year are a diverse group of standout scholars under the age of 40," the magazine said. "Recognized for the uniqueness of their fields of study, as well as their commitment to service and teaching, these scholars represent some of the brightest minds in the nation."
Qattawi joined the campus in 2015, after earning her degree at Clemson University. She studies innovative manufacturing processes for sheet metal so that car manufacturers don't have to change expensive molds each time they make a new model. One way to do that is by folding the sheet metal origami-style.
"Professor Qattawi is a pioneer in her field. She has an inspiring enthusiasm for engineering education and mentoring, especially for students at UC Merced," School of Engineering Dean Mark Matsumoto wrote in his nomination. "Her passion for engineering education — especially for topics related to automotive engineering — has provided her students with knowledge related to practical design problems faced by manufacturers, giving them a valuable advantage as they enter the job market or as they pursue advanced degrees."
One of the aspects of working at UC Merced she most enjoys is working with students.
"The undergraduates are really excited to work in research," said Qattawi, who is an instructor in the senior capstone engineering courses. She and her students work on 3-D printing and materials studies, examining methods of folding sheet metal and assuring it can bear the weight of the function it serves in the car.
Qattawi has introduced new courses in the fields of manufacturing processes and mechanical component design.
She is also a mentor for female students and women of color, and organizes and participates in activities and seminars for women in science, technology, engineering and math (STEM) fields, to encourage more women to pursue STEM degrees. She said the more female mentors there are for STEM students, the more it becomes normal to have women in those fields.
"I will always encourage the female students to speak up, to ask questions," she said. "I have a few girls in my classes now, and sometimes they seem intimidated, or maybe they think they shouldn't disagree or that their ideas will be unpopular. Don't worry about that. Just have a seat at the table and get involved. Women can bring a whole different perspective to discussions, and that's very important."
She's working on an outreach program for younger students to teach them about 3-D printing.
Qattawi was also named a recipient of a grant through the University of California Institute for Mexico and the United States (UC MEXUS) and El Consejo Nacional de Ciencia y Tecnología (CONACYT) program that supports teams of UC and Mexican researchers in basic and applied collaborative research, instructional development, and public service and education projects that apply to public issues. She and her fellow researcher from Mexico are working to characterize nickel-based alloy components.
Qattawi was also named a Hellman Fellow for 2016, along with fellow professors Dalia Magana, Gregory Wright, Mariaelena Gonzalez, Venkattraman Ayyaswamy, Ramedra Saha, Shilpa Khatri and Emily Moran. The fellowship program supports promising junior faculty members as they work to establish themselves.
And if she wasn't busy enough, Qattawi is also involved with the Society of Automotive Engineers (SAE) student chapter at UC Merced. She helped shape the club from scratch, providing on-site feedback on students' designs and activities. The SAE student chapter at UC Merced is thriving and is scheduled to participate in the 2017 SAE Formula competition with an electrical-car configuration.
"I am incredibly proud that Professor Qattawi has been named an Emerging Scholar by Diverse: Issues in Higher Education," Vice Provost and Graduate Dean Marjorie Zatz said. "UC Merced seeks to be a trailblazer in promoting STEM diversity, especially in graduate education, and her unfailing dedication to her research and mentorship is inspiring to us all. More importantly, she is an excellent role model for all women who aspire to succeed and lead in STEM fields."