Don't Delay: Open Enrollment Ends at 5 p.m. Nov. 26
The deadline to make 2014 Open Enrollment selections is approaching. Open Enrollment – the time to review your benefits and make changes or adjustments for the coming year – ends at 5 p.m. Tuesday, Nov. 26.
For those who haven't made their selections yet, Human Resources suggests you do so soon. Typically, the final two days of the Open Enrollment period are the busiest for both the Benefits office and the website. Employees can anticipate heavy traffic on the Open Enrollment website during the final days.
See the Open Enrollment website for all the information and tools you need to make a choice.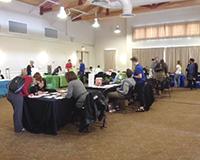 Meanwhile, more than 300 employees attended the Open Enrollment Benefits Fair held in the California Room on Monday (Nov. 18). Insurance carriers and vendors were on hand to answer employees' questions, provide information and give away freebies that included pedometers, hand sanitizer, pens and more.
Employees also were able to get flu shots, de-stress with 15-minute massages and get their cholesterol and blood pressure checked.
Questions? Contact the Benefits office at benefits@ucmerced.edu or call 228-2363.